Post by TheWallsScreamedPoetry on Jan 5, 2011 16:39:19 GMT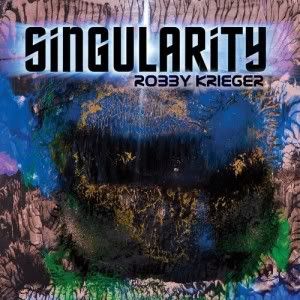 "Russian Caravan (Intro)"
"Russian Caravan"
"Southern Cross"
"Event Horizon (Intro)"
"Event Horizon"
"Coffin Dodger"
"Runaway Trane"
"Let It Slide"
"Solar Wind"
"House of Bees" Robby Krieger: Singularity Review
Dr Matt Warnock
Guitar International Magazine 2010
Singularity is a creatively conceived album by former Doors guitarist Robby Krieger. Walking the line between being highly improvised and being carefully arranged, the album is a kaleidoscope of genres, sound, tone colors and timbres, directly representing the wide variety of Krieger's musical influences.
From Flamenco to orchestrated arrangements to jazz, blues and rock inspired improvisations, Krieger covers a plethora of styles, feels and grooves throughout the record.
Consisting of ten instrumental tracks, the music may differ in context from Krieger's work with the Doors, but it's similar in the high-level of creativity and spontaneity that has defined the guitarists work over the decades.
Two examples of Krieger's improvisational style can be found in the solo Flamenco pieces "Russian Caravan (Intro)" and "Event Horizon (Intro). Both tunes are drenched in the raw energy and improvisational spontaneity that defines the Flamenco genre.
While most Flamenco music, such as the work of virtuoso guitarist Paco de Lucia, relies heavily on the player's technical chops, Krieger focuses more on the rhythmic and harmonic colors of the music, rather than just ripping through scales and riffs. Given his history as one of rock's most iconic players, it's not surprising that Krieger would carry over that level of personalization into his non-rock playing as well.
The album also showcases Krieger's love for jazz and his ability as a soloist within this highly-improvisational genre. "Trane Running Late" is a tip of the hat, in both the title and musical content, to jazz saxophonist John Coltrane. As well, "Solar Winds" finds Krieger displaying Wes Montgomery inspired octaves, as well as sneaking in a quote from Charlie Parker's classic bebop tune "Donna Lee."
Both tunes are jazzy, yet distinctively Krieger, spotlighting the guitarists ability to cross over into different genres while retaining his own, unique and personal sound on the instrument. This is a testament to the time Krieger has spent working on his craft, even after achieving monumental success over forty years ago. Proving that this is a guitarist who wants to push himself, he isn't content to sit back and rest on his laurels.
Singularity is an enjoyable album that will appeal to long-time fans of Krieger's guitar work. Though, those listener's who may only now be discovering this legendary rocker might be better off doubling back and spending time with the Doors catalogue before digging into this, and Krieger's other, newer albums.
With this album Krieger is letting his fans know that not only does he still have it after forty plus years in the business, but that his music continues to evolve, moving in new and exciting directions.