Post by darkstar3 on Mar 16, 2011 23:15:49 GMT
The Hollywood Bowl Los Angeles California on September 10th 1972.
Sadly the bands swansong is rather anticlimactic playing second fiddle to Frank Zappa's debut of his latest album.
From the tape we can hear it is a lively affair with some nice music and vocals from Ray.
In the end though it is rather an afterthought for such a fine band.
This was not meant to be the final Doors gig but circumstances made it that when the band came to England to recruit a singer.
Melody Maker announced Howard Werth of Audience was to be the new singer but then Dorothy was ill and Ray said that nobody could replace Morrison and The Doors were done.
Ironic that 30 years later anybody could replace him from a Morrison wannabee from The Cult to some Croatian bloke who could not even remember the words to a full on tribute band singer.
The band entered with a seismic shock and went out with a small fart.
Damn shame.
I've searched magazine and newspaper archives and found nothing written about The Doors last gig that isn't about Frank Zappa.
Without his site there would be hardly a mention.
And to be brutally frank (no pun intended) it was barely mentioned in California newspapers.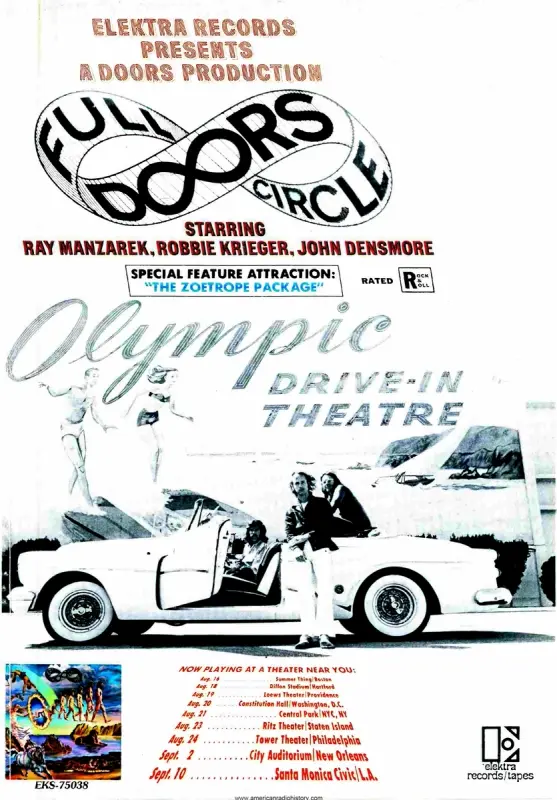 ## note the September 10th gig was meant to be Santa Monica Civic. They opted for a support slot to Zappa at a bigger venue they could have never hoped to fill anymore.
Intro
Tightrope Ride
In The Eye Of The Sun
The Mosquito
Band Introductions
Love Me Two Times
The Piano Bird
Verdilac / I'm Horny, I'm Stoned
Ships With Sails
Light My Fire
"Thank You, Jim"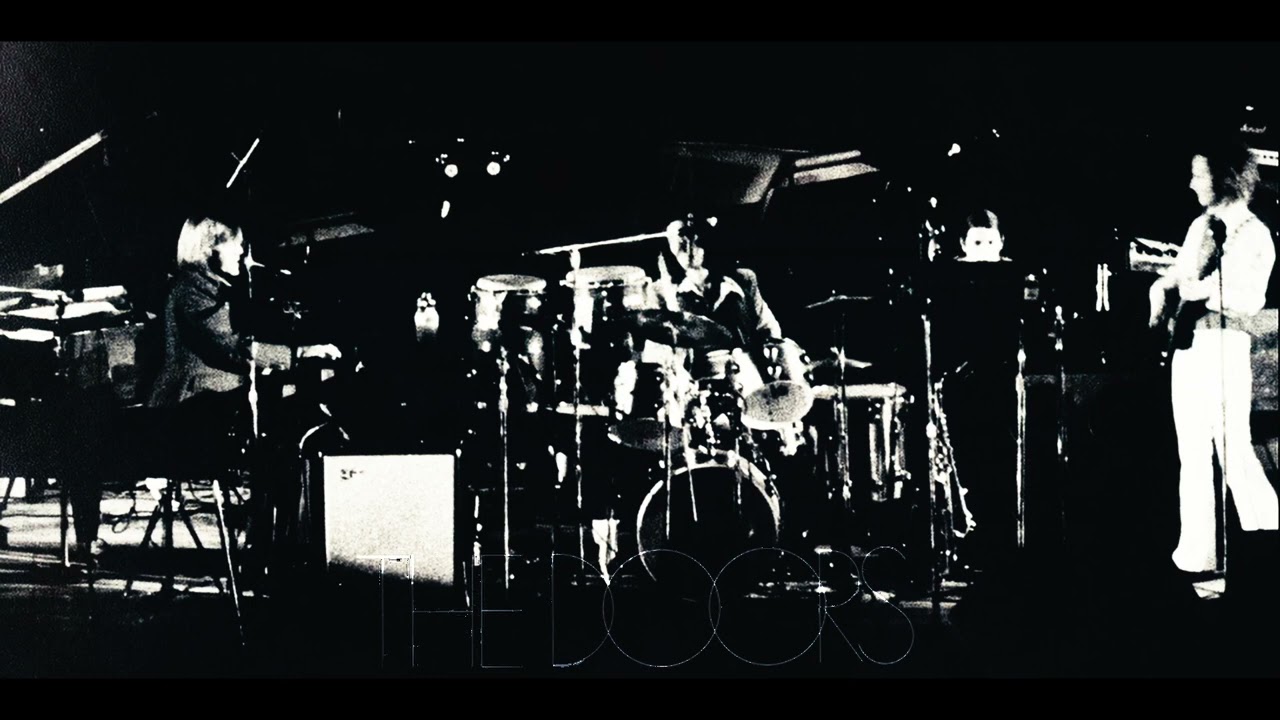 The Doors were augmented by Jack Conrad on bass guitar and Bobby Ray on rhythm guitar with Ron Starr on saxophones.
The Doors performance tonight is tight and well paced with a driving gutsy blues sound that fuels the entire evening. Manzarek is in high spirits and mischievously introduces Robby Krieger as 'The divine the sexy Robby Krieger' before the band do their 'Mosquito' number. Krieger responds with some tasteful guitar work.
Flute player Charles Lloyd, who performed on the Full Circle album, joined the band for Johns 'Piano Bird' and stays with them for the remainder of the set.
While introducing 'Light My Fire' Manzarek delivers what in retrospect could be considered a eulogy for the band......
"When we first started out there were four of us and one of the guys is missing now. I don't know whether you know that or not. But he met with a little unfortunate accident and he's not here right now. But he'll be back. He'll be back next time we play the Bowl! And we're going to try and do this whether or not he's just hanging around digging it. We're going to do this one for our own Jimbo! Okay Jim get ready! I know you're out there somewhere man so get ready for it cause here it comes!"
The Doors proceed through their finale with gusto and at the conclusion Ray loudly exclaims their farewells with 'Thank you very much, thank you Jim. We'll see you'
Taken from Doors On the Road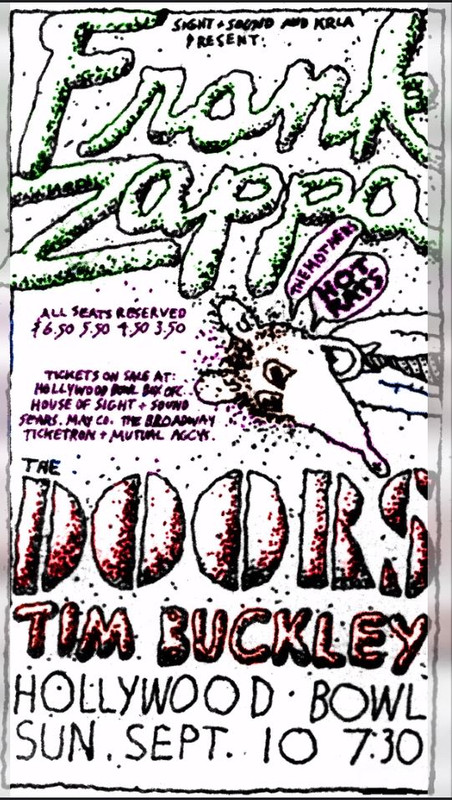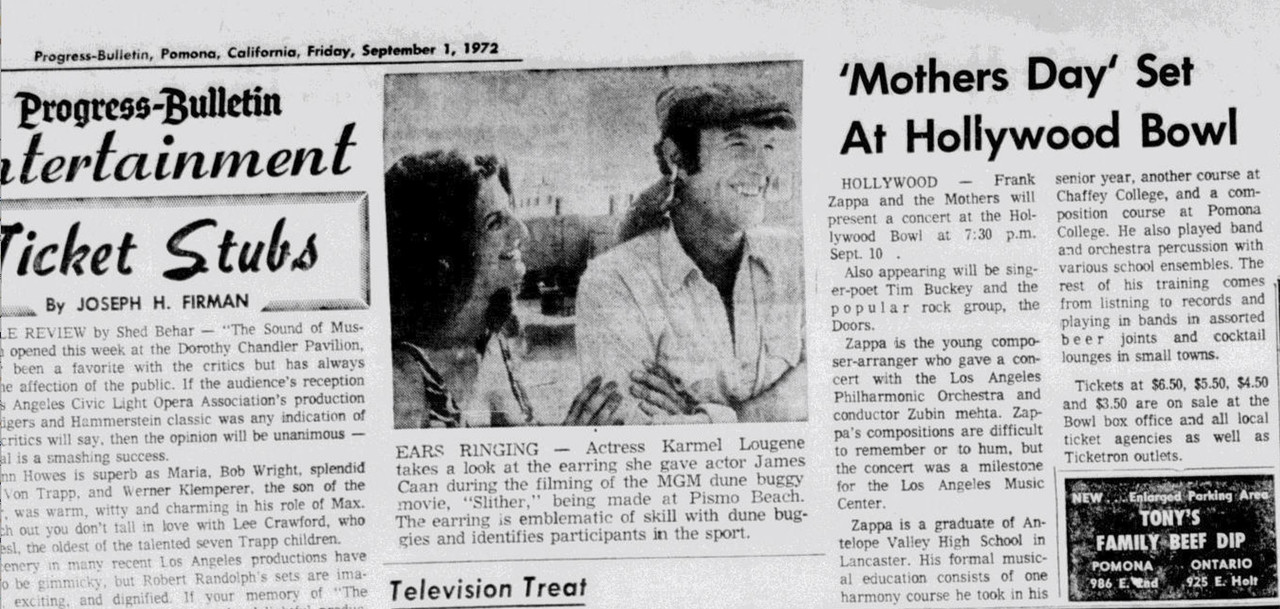 1-9-1972
Progress-Bulletin Pomona, Calif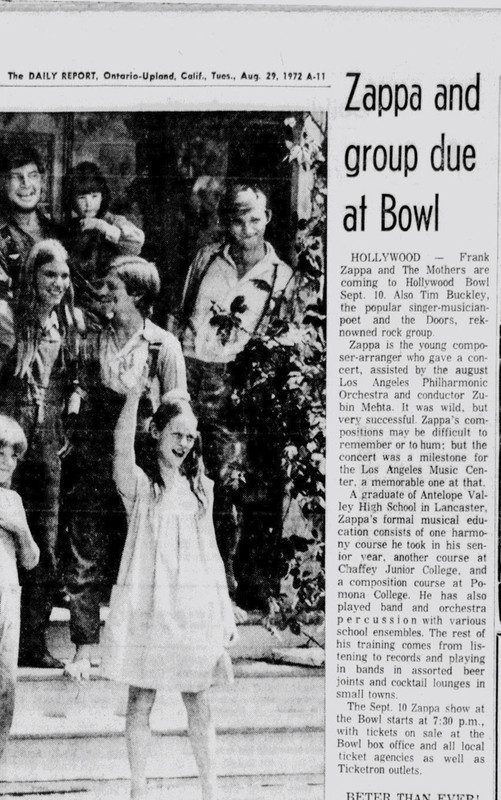 29-8-1972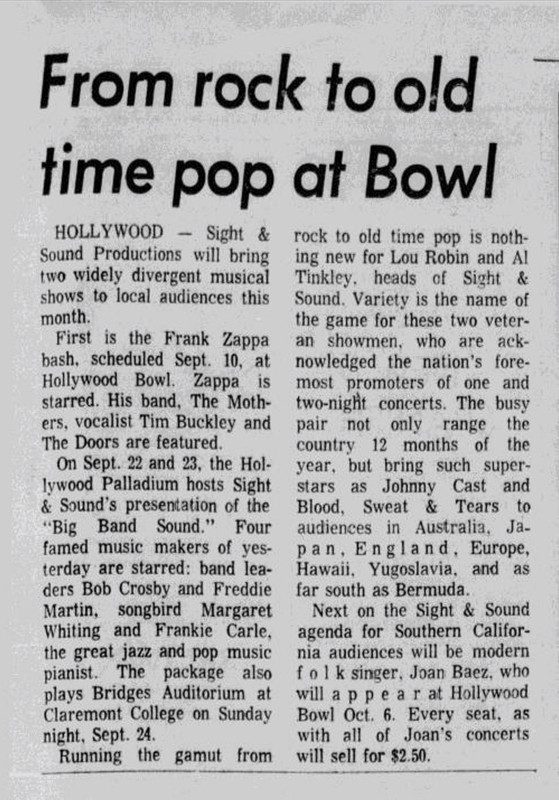 4-9-1972
The Daily Report Ontario-Upland CA

7-9-1972
Valley News Perris CA


17-2-1972
Los Angeles Times. CA.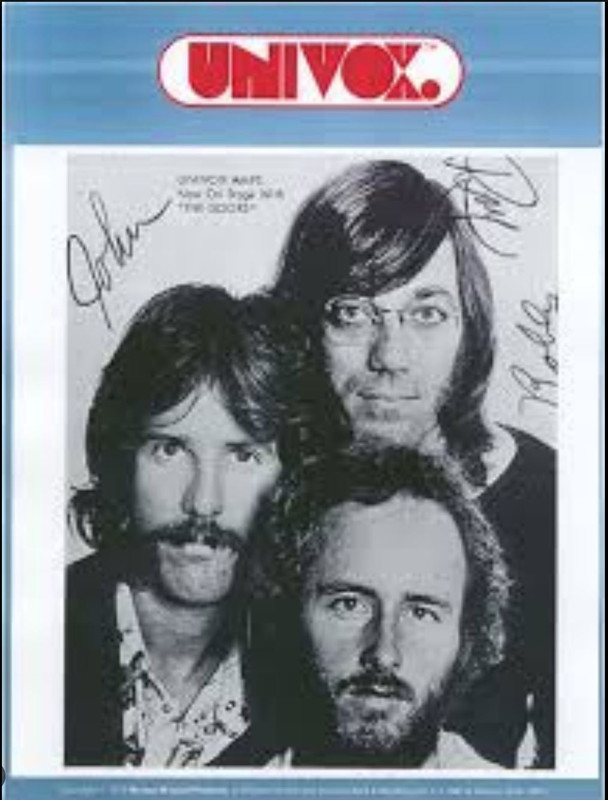 Autographed Univox Amp poster