Post by TheWallsScreamedPoetry on May 17, 2005 12:25:00 GMT
Just got a copy of this today and its rather an amazing piece of Doors history to say the least.....more sepia than black and white but I dunno if thats the copy or how the show went out....starts with a burning house and a siren then cuts to The Doors on a fire engine playing 'Light My Fire'....Jim is NOT there but Ronny stands in front of the band facing them so we only see his back....he looks pretty uncomfortable throughout but seems to amuse himself with the girls draped over the fire engine.....he is wearing a stripy hooped T shirt and we keep seeing Jim in the same shirt miming the song but without the fire engine as a backdrop.....So Jim must have turned up later to shoot some footage for the show that could be spliced in to the Doors stuff....
The band look cool and unconcerened that thier lead singer did a dissapearing act and seem oblivious to his absence....
I can only play it on my TV with my multi region DVD player at the moment and can't play it on my computer but am hoping to get some info on the programmes I need to be able to stick it on an ftp site for everybody to download......
Incredible piece of Doors history, like the Jim footage from FSU ....why the hell don't the band get all this stuff onto a disc and let the fans see it all for themselves.....
Malibu U (ABC TV) Leo Carrillo State Beach
Los Angeles, California - August 25th 1967.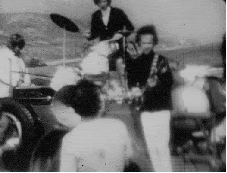 Ronny Krieger replacing Jim on the shoot has his back to the cameras!
The Doors spend two day in late July or early August filming a video for 'Light My Fire' while standing around a 1940s fire engine on Leo Carrillo State Beach
north of Malibu, California. The shooting goes as scheduled however unbeknownst to the directors Morrison never shows up. Jim has become so disgusted with lip synch television presentations that he simply dissapears for this one. The Doors convince Robby Kriegers (non-identical twin) brother Ronny to stand in for Morrison and never allude to Jims abscence.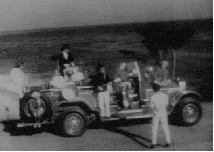 Malibu U is a summer special hosted by Rick Nelson and operates on the ludicrous premise that Malibu U is a mythical beachside university with Nelson as dean.
Doors On The Road