Post by TheWallsScreamedPoetry on Sept 25, 2011 9:32:31 GMT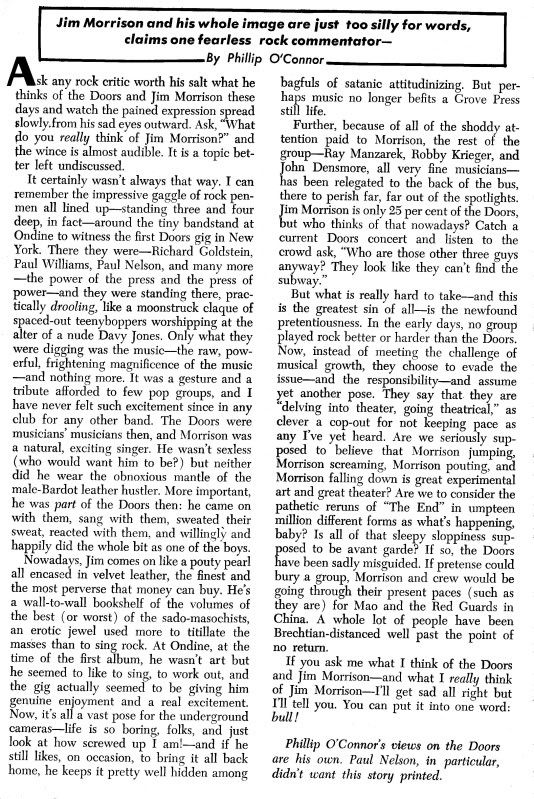 'Slamming The Doors' from
Hullabaloo January 1969
This is a very interesting piece from January 1969 just before Miami.
Here we see some figures in the media turning against The Doors and Morrison in particular.
It is interesting as there are happenings within The Doors these journalists are not aware of and they mistake Morrison's demeanour as pretentiousness and boredom.
Several discussions here deal with aspects of this and show Morrison as more victim than villain.
For 40 years those still alive have sullied the name of The Doors singer whilst hypocritically balancing their duplicity with talk of being his friend.
The real truth seems a lot different from the fanatasy that was the last 40 years of Doors Lore.
The lies the band members have told since 1971 are slowly being revealed and they are being seen for what they really were.
Greed overwhelming them in 1968 and changing the perspective of America's most intelligent band forever.
The singer tried to stand up to them but was obviously not strong enough and eventually dissillusionment won out and we saw Miami and beyond.
Eventually the singer broke free but the previous few years caught up with him and he died.
Ironically his death was the saviour of the other three who were left heading for the bargain bin and musical oblivion.
So was Jim the villain of this drama or actually the victim?
The links below offer arguments in favour of the Doors singer as well as produce evidence that he was indeed a victim of the greed that overwhelmed his group in 1968.
The recent Doors documentary a travesty which was used by the surviving three to cememnt their lies that Jim Morrison was the cause of the downfall of The Doors.
Check out the evidence contained in the links below and have your say if you call yourself a Doors fan.
Jim gets sued by The Doors: when he is dead
The Doors unhinged.....The Soft Parade cause and effect
…..the consequences of Buick for Miami and beyond......
The Lost Doors Album: Celebration Of The Lizard!

Why did 'And The Doors' not trust Jim?

When You're Strange: Critique?