Post by TheWallsScreamedPoetry on Dec 23, 2004 20:38:23 GMT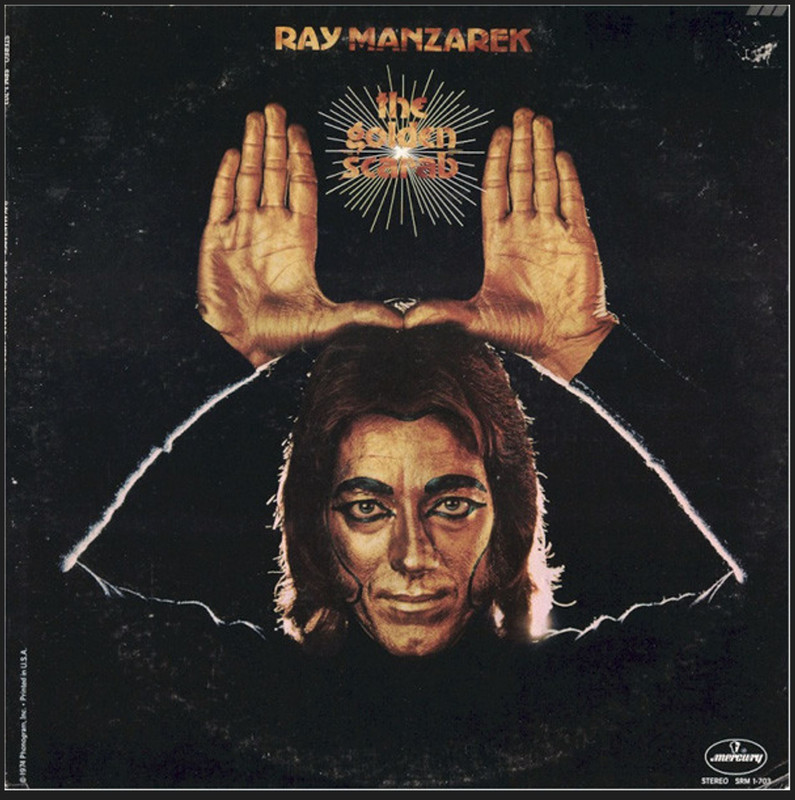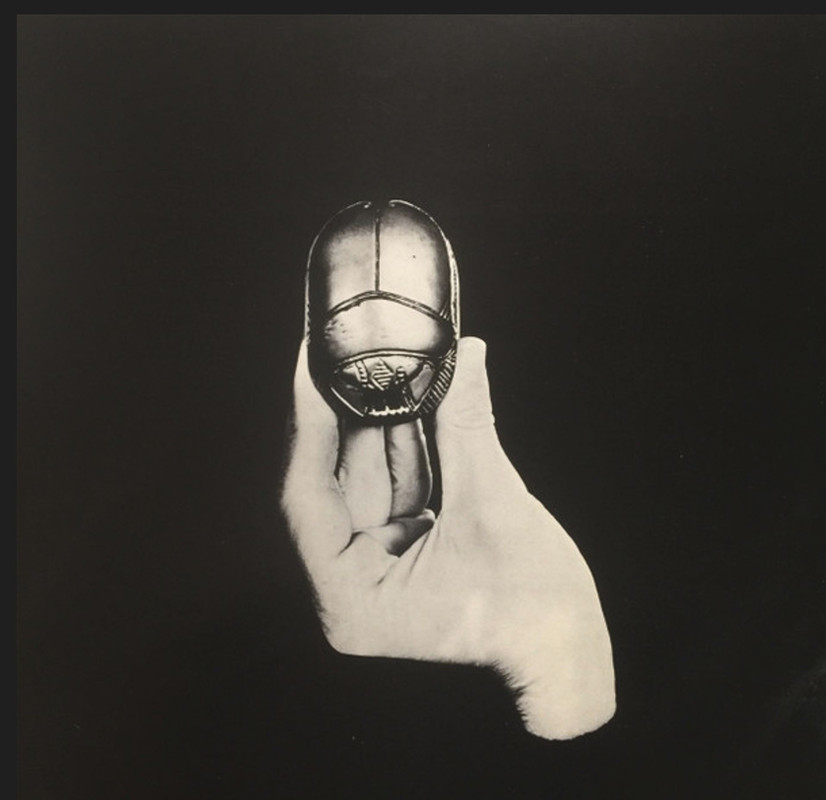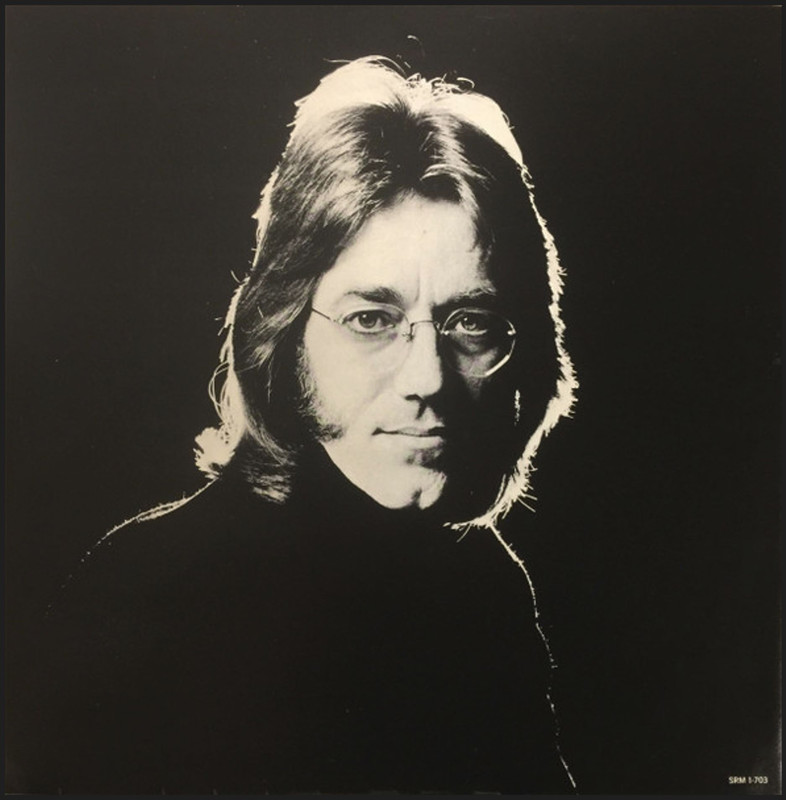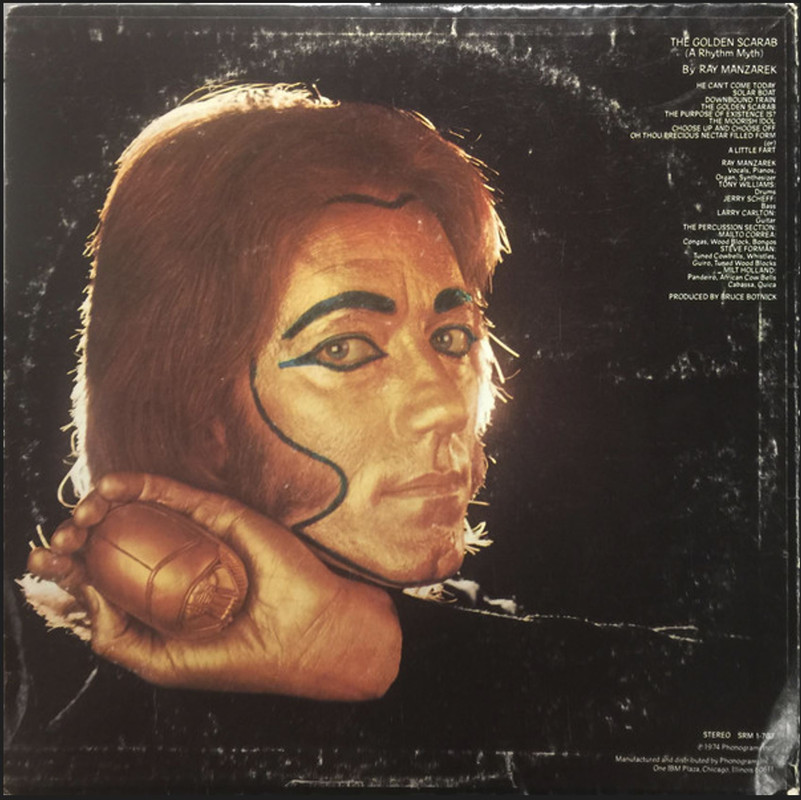 The Golden Scarab is just my baby entirely. That's all about that's the hero's journey, that's Joseph's Campbell. That's why it is called a rhythm myth.
Ray Manzarek
Track Listing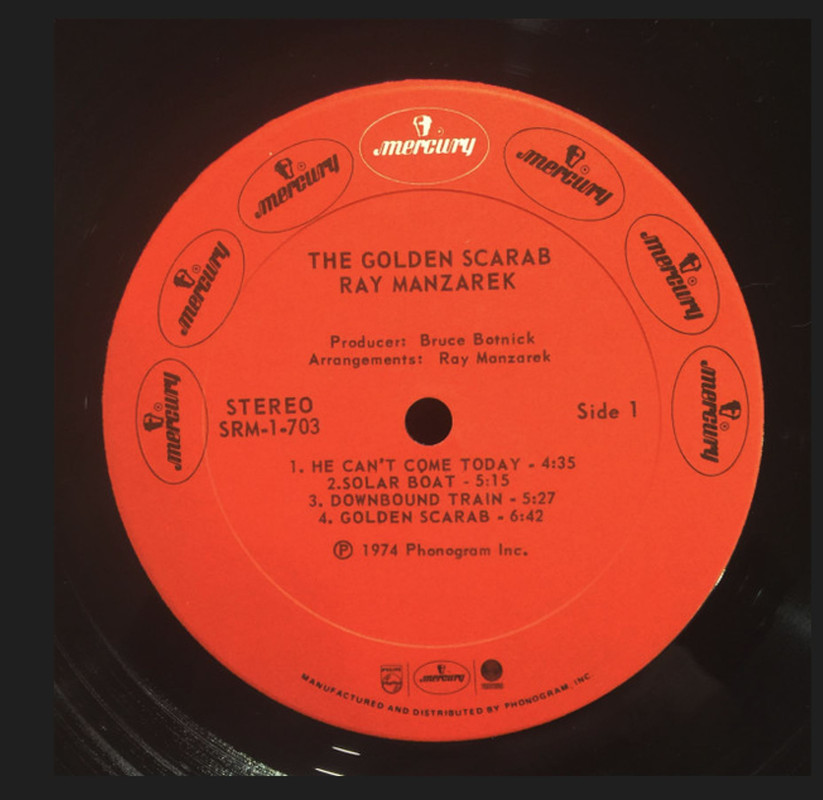 1.He Can't Come Today 4:40
2.Solar Boat 5:58
3.Downbound Train 5:30
4.The Golden Scarab 6:42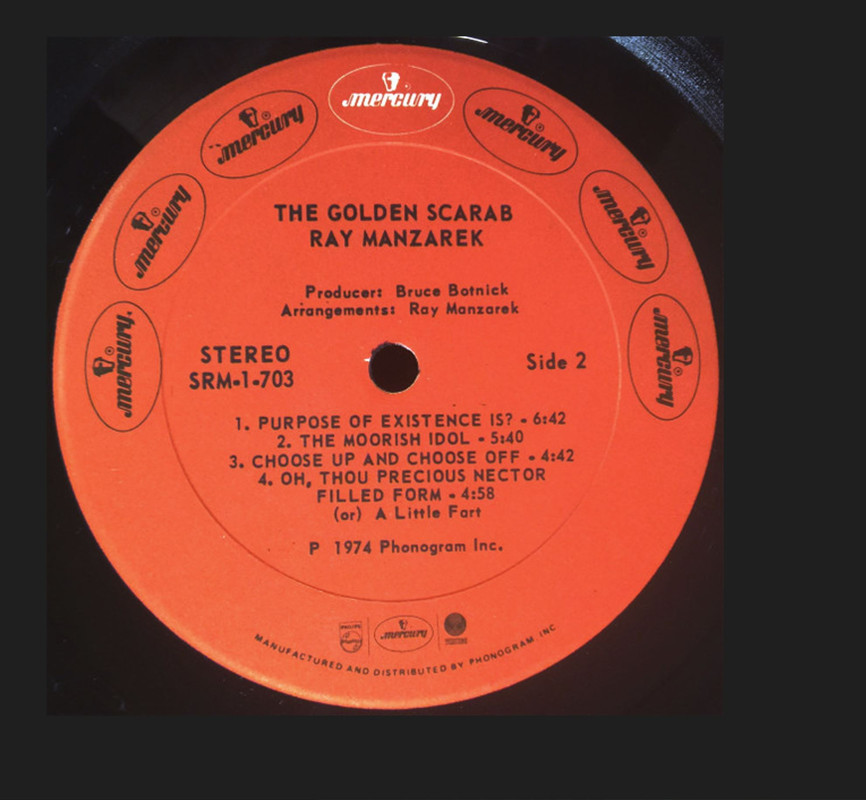 5.The Purpose Of Existence Is? 6:38
6.The Moorish Idol 5:38
7.Choose Up And Choose Off 4:43
8.Oh Thou Precious Nectar Filled Form (or)
A Little Fart 4:57
Dunno if you all know but Cherry Red Records recently re-released Golden Scarab on CD......for me a masterpiece of 70s keyboard wizadry coupled with a truly unique if completely insane storyline.......
Ray's lyrics are always a bit barmy but coupled with the richness of his best storytelling voice are well worth enduring...I first got this on vinyl as an import months before its release in the UK and have had a CD of it since CD recorders first made an appearance but it was cool to hear it as a bona fide CD release with pristine sound and a super cool cover....
Well recommended......
Bet that surprises some of you guys!!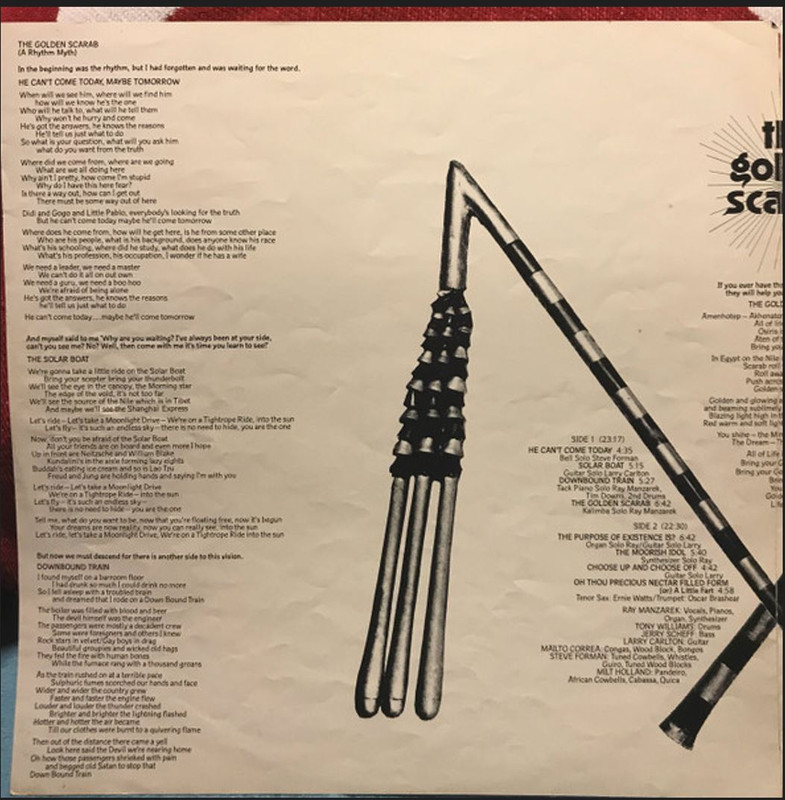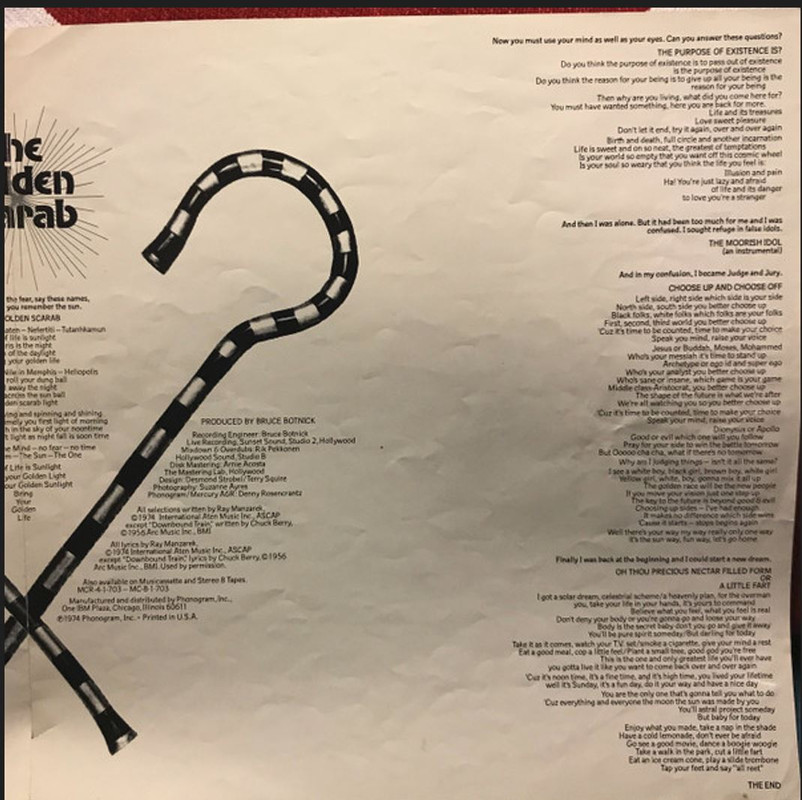 The Persian restaurant was closed, so we had to settle for Bar BQ and Brew. Ray Manzarek, the former keyboardist for The Doors, who had gotten himself immersed in Middle-Eastern mythologizing with his first solo LP, The Golden Scarab (Mercury 1-703), had to succumb to his humble Mid-Western upbringing. Cheeseburger and fries, please.
"Shit, man, I've told this damn story a million times," Manzarek piqued, obviously irritated that people always asked him about Jim Morrison before they showed any interest in his solo career. "I met Morrison on the beach in Venice. (Isn't this in the bio?) We went to school together, graduated from UCLA, the film school. He came walking down the beach two months later. I said, "What are you doing?" He said, "I've been writing songs." "Outtasight," I said, "let me hear some of them." He sang "Moonlight Drive and I said, "That's incredible. Let's get a rock'n'roll band together and make a million dollars."
That'll go over well in Down Beat, too. Stress that. "Let's get a rock'n'roll band together and make a million dollars. And just have positions of power and authority and all that other stuff that goes along with it." We had to get two other guys, or three. We thought about getting a bass player, but we never found one, so I just played keyboard bass the whole time.
"At that time I was involved in Maharishi meditation, and in my class, in that six lecture class you take, were John (Densmore) and Robby (Krieger). We all got together and the music was incredible and it was simple as that, you know."
It was also subliminal. The dark champions of orgasmic rock, with Morrison the poetic sire and visual focus, The Doors created a ballyhoo of controversy during their six-year, six-gold-album existence. Then one day, Morrison upped and split the scene in more ways than one. Was the band together when he died? "He was in Europe and we were in-he was in Paris and we were in Los Angeles. He had gone over there for a rest, to vacation, get his head together. But he never came back. And that was a big...really very affecting, man, Jesus. I mean, here was a guy who was the King of Orgasmic Rock. The Lizard King. So we thought, Hell, what do we do now?"
At that time there had been talk of taking a long vacation. Our contract with Elektra was up and we had no more obligations to deliver records. We thought, let's take some time off and see if we want to go back with Elektra, go with another company, or if we want to continue at all. Let's just cool it. We've been doing this for the past six years. Let's take eight months off and see what we want to do. So that's what we did and it was very difficult after he died. We just decided to continue. Then it really fell apart. We all wanted to go in different directions. Everybody suddenly became a songwriter."
The death of Morrison remains clouded in obscurity. Nobody really knows what happened. "As far as I know, there are no published reports of Morrison's death. No one ever saw the body. It was a sealed coffin and the French death certificate translates-people said he died of a heart attack, that's what I thought-but the death certificate says, "his heart stopped." So who knows. You don't put that down, that he's not breathing, he's dead. He died because his heart stopped! That is not a reason. So there is plenty of speculation."
Manzarek's whole demeanor belies his involvement in the punk-rock era of The Doors. Obviously well educated and interested, almost hung up, in the lore of religion and philosophy, Manzarek strikes a different pose from the one Morrison created. Even performing with his new group, doing material that melodically and lyrically is based in the Doors' sound, Manzarek seems more the metaphysician than the demonic cajoler of twelve-year-olds.
Changing the topic of conversation from Morrison to Manzarek's newly revived career brings a flood of words. "I made the record (The Golden Scarab) and then I took it around to sell it. I went to some big record companies and nobody wanted it. They said exactly what they had said to me when I took the Doors' record around the first time. "Too far out. Too weird. We don't understand it. We don't think our public, our buyers will understand it." A&M Records said, "We don't want it. It's not poetic enough." They're looking for limp-wrist, wishy-washy poetry and stuff like that. When you come right down to it, "Take a walk in the park/Cut a little fart" that's not exactly great poetry. But, you know, on the other hand, it is. It's just so simple, so obvious and so direct."
"Finally, Mercury Records and Danny Rosencrantz said, "Wow, I like this, man, we want it!" They were hip enough to take a chance with it. The Doors went through exactly the same thing. I told the people at Columbia, "You're fools, this is exactly what I went through with The Doors." But Mercury and Elektra are very similar. Small record companies, but they give you a lot of good, personal contact, personal service, and they could just take right off.
"The fact that the album is a concept album is an act of my unconscious mind taking over. I had about ten songs written and one day I sat down and wrote each title out on a little piece of paper and would start to juggle them to arrange them in a sequence. Little by little, after playing with various combinations, it became the story. I said, "Yeah, wait a minute, this thing tells the whole damn story, man, and each song covers one facet of a long, psychedelic voyage. A journey for consciousness, a search for enlightenment, as much as I hate to use that word."
(Part 1) Journey to the Vortex of the Golden Scarab By Ray Townley Down Beat Magazine, November 7th, 1974