Post by TheWallsScreamedPoetry on Feb 15, 2023 12:09:51 GMT
Whisky A Go Go Los Angeles Sunset Strip CA 1966 & 1967
The Whisky A Go Go is synonymous with The Doors in the same way The Cavern is with The Beatles.
There is a great deal of myth, half truth and legend when it comes to the bands sojourn there.
The Doors didn't get fired rather dramatically due to The End.
Also they did not make their Whisky debut with Them.
This bit of myth so troubling they made a point of mentioning that fact in The Doors By The Doors their own retrospective.
But of course this piece of tosh only ever came from one source.
Ray Manzarek.
And the funny thing was, he was still peddling this even after the book came out.
This from 1983 one of many times Ray came out with this nonsense.
"Yeah, there were some good times at The Whisky-A-Go-Go, boy that's for sure. We played with Them; the first gig we played at The Whisky was Van Morrison and Jim Morrison - on the same stage. And Van Morrison was insane. You know how he got into just standing there and singing? I haven't really seen him in a long time, but when he was with Them, the guy was ALL OVER the stage, man. Absolutely insane. Did that thing of holding the microphone stand upside down, and singing, and smashing the mic stand into the stage, and just...God, was he incredible! He was so good. Then the last night we played we had a jam, We got a couple of photographs of that somewhere, but nobody recorded it. The Doors and Them, together on stage, the two Morrisons. Mmmmmmmh!"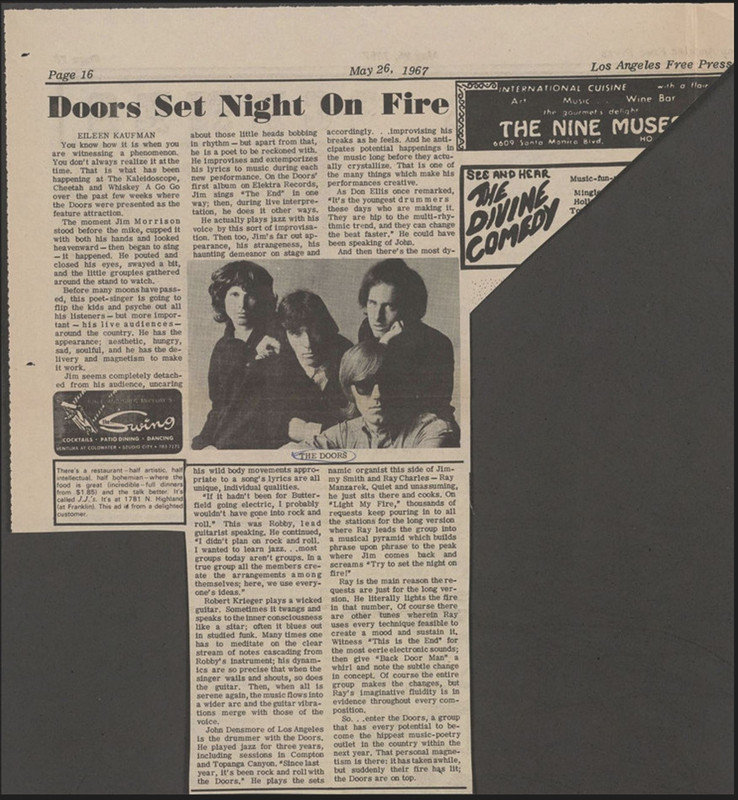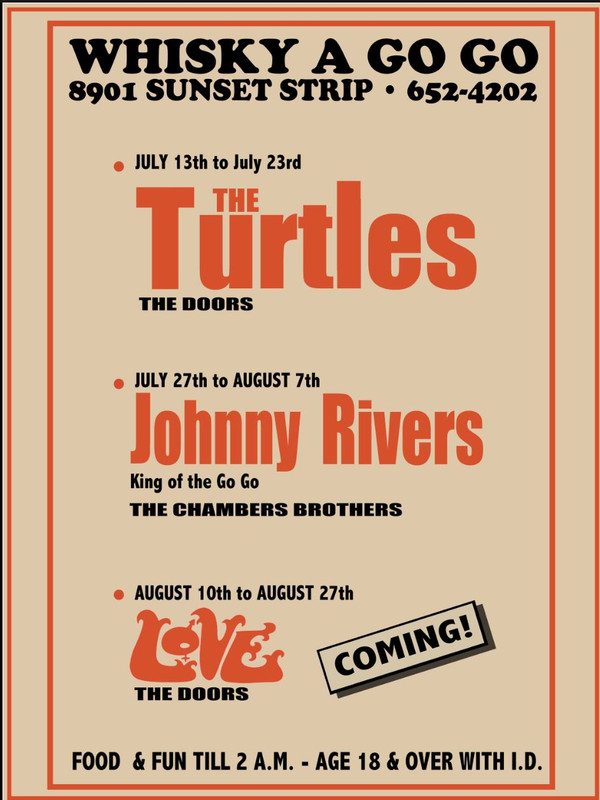 LA Free Press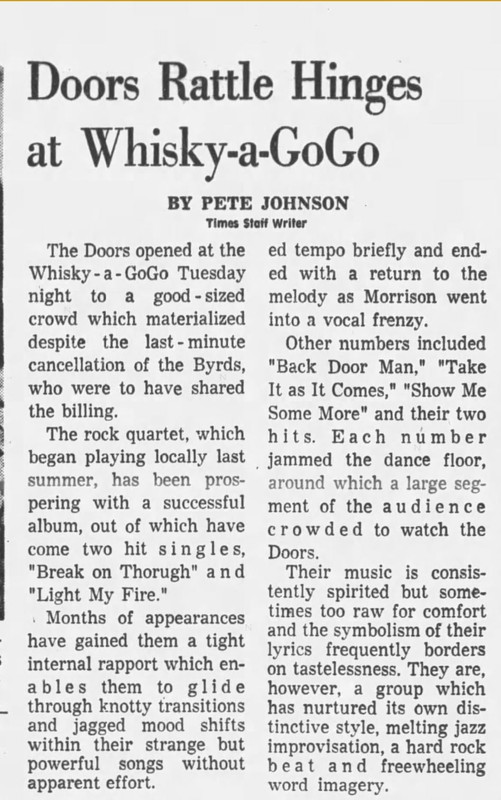 18-5-1967
LA Times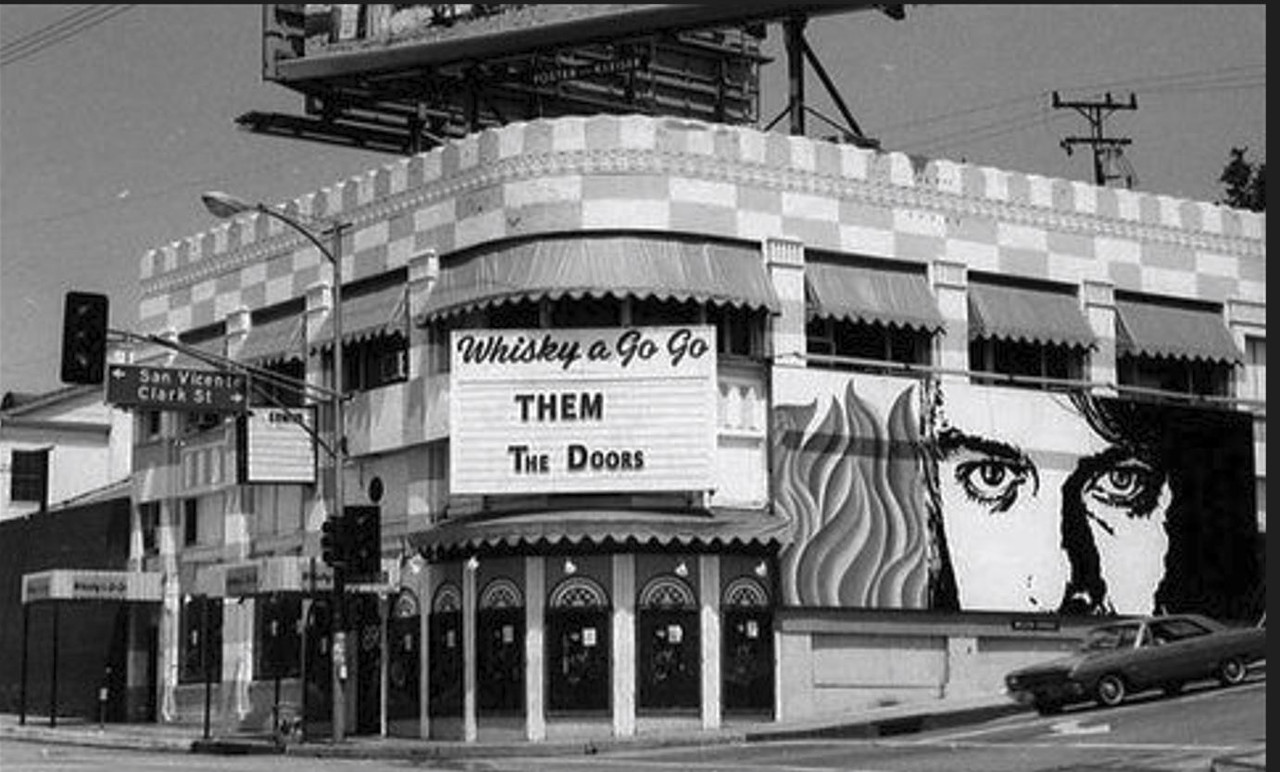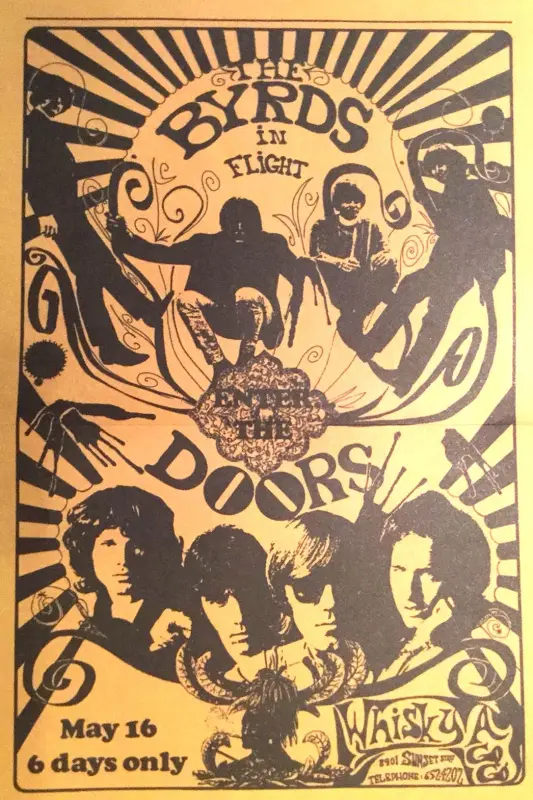 "I saw The Doors at the Whisky all summer long in 1966. I was a big fan of Van Morrison and Them and The Doors opened when they came to the Whisky. Love had always been my favourite LA band and I thought The Doors were very strange. But their sound grabbed me. They were covering Gloria and playing Moonlight Drive and it was a whole new sound."
Paul Body saw the rise of The Doors on the Sunset Strip in 1966.
"I went to see Them at the Whisky and opening were The Doors. Ray denies it but I swear they were billed as The Swinging Doors. I thought Ray looked like John Sebastian and I remember talking to him in the Whisky bathroom. I thought he was a real nice guy but I hated the band. I really didn't like watching Morrison drape himself over the microphone. I got pissed off and went to Elmer Valentine ,the owner, and said 'hey, I've got a band better than this –can we get a job here'".
Chris Darrow of fellow Sunset Strip act Kaleidoscope.
"I used to show slides at the Whisky on a couple of screens. Not so much a light show just a colourful close up of everyday objects. I had a picture of a flaming toilet – someone had poured lighter fuel in a motel toilet and I got a great shot of it. It was mixed in my slides at random but I remember it came up right as The Doors started playing 'Light My Fire'. That's the way it seemed back then – things would just fall into place very nicely."
Henry Diltz –Doors photographer.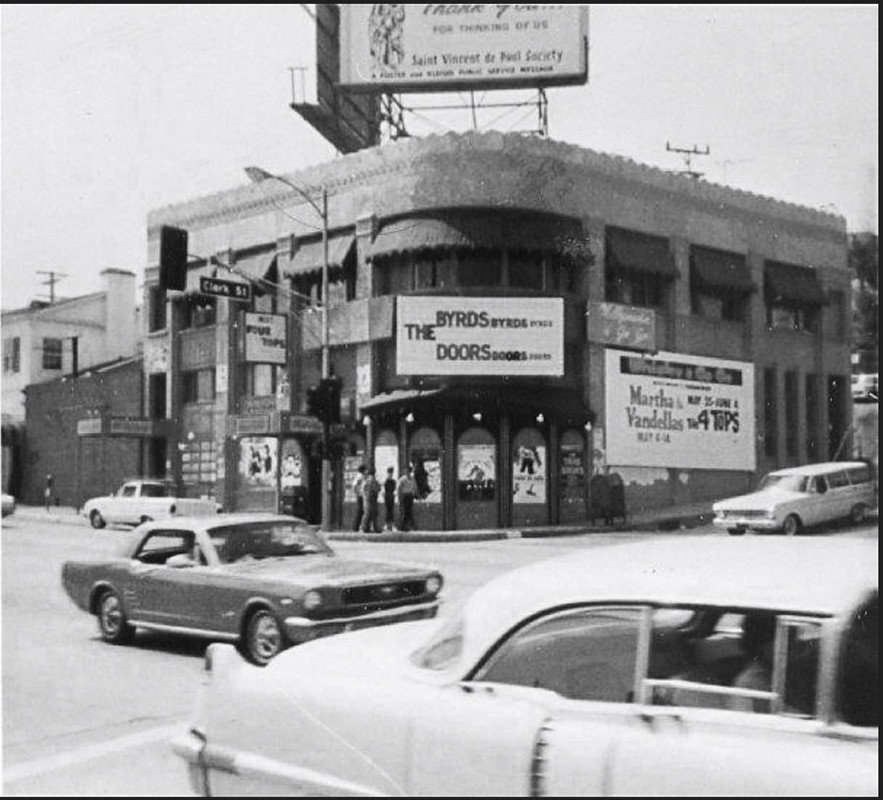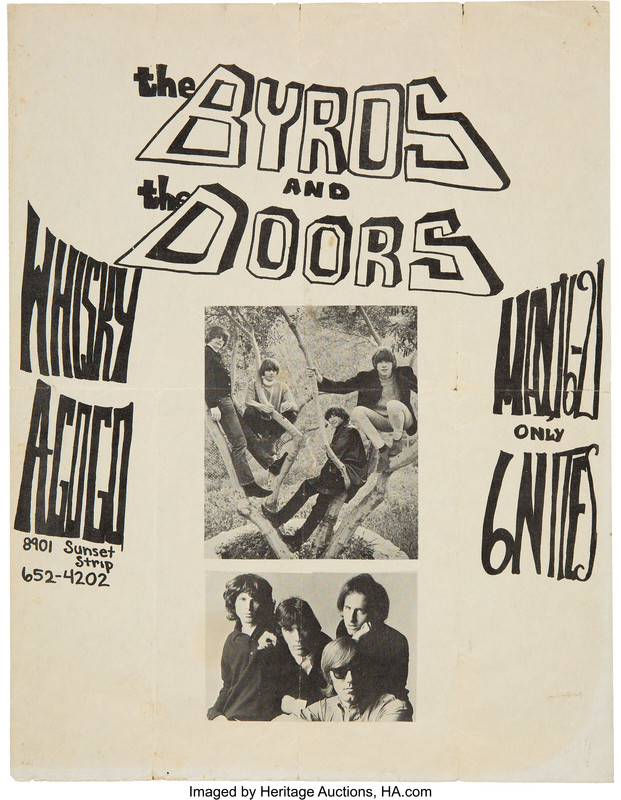 " A friend and I drove by the Whisky and saw Jim literally sitting in the gutter all by himself. We were on our way
to a party at Eric Burdon's house so we picked him up. On the way there he was leaning out of the car
and I kept trying to pull him back. He was yelling and I thought he was going to fall out. We got a
little concerned at showing up at Eric's house with Jim but it turned out to be a wild party and Jim fit right in"
Rodney Bingenheimer LA DJ 1966