Post by TheWallsScreamedPoetry on Dec 22, 2004 16:56:38 GMT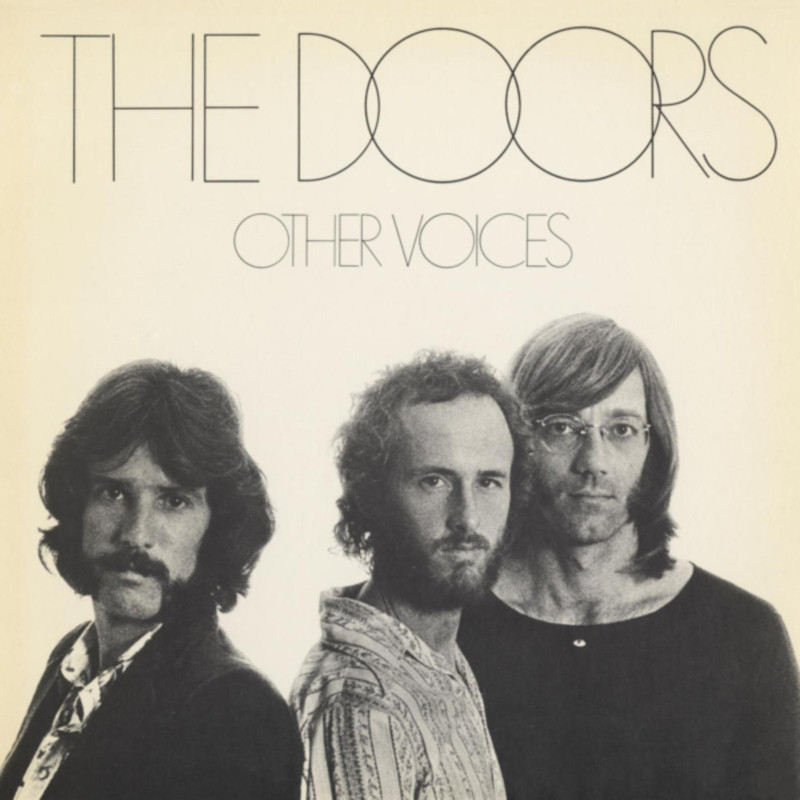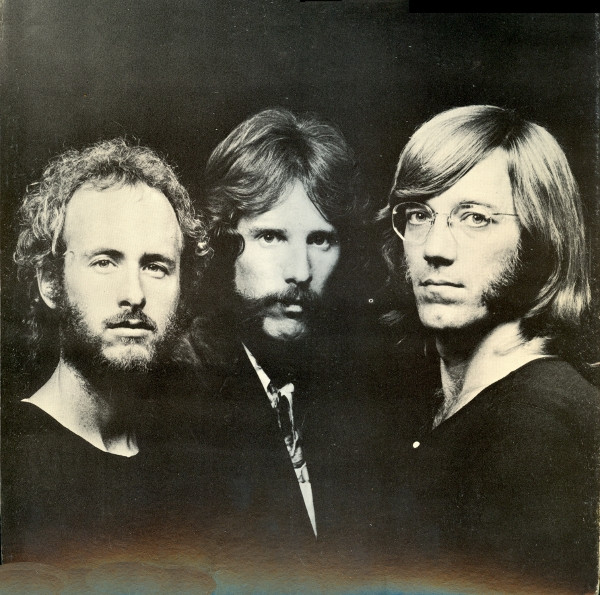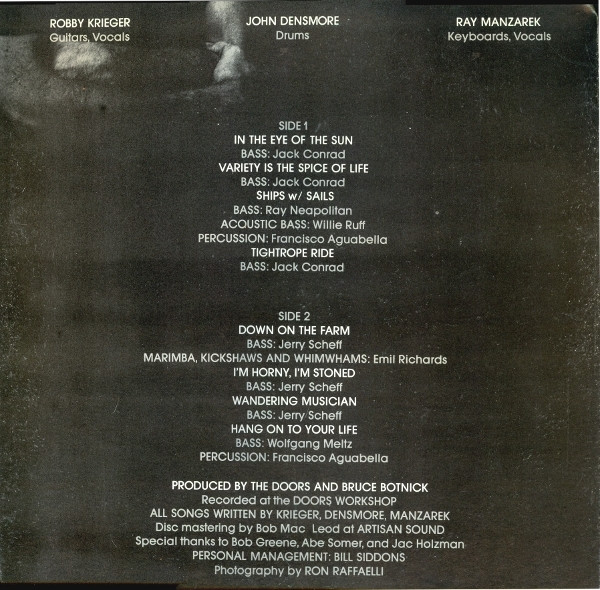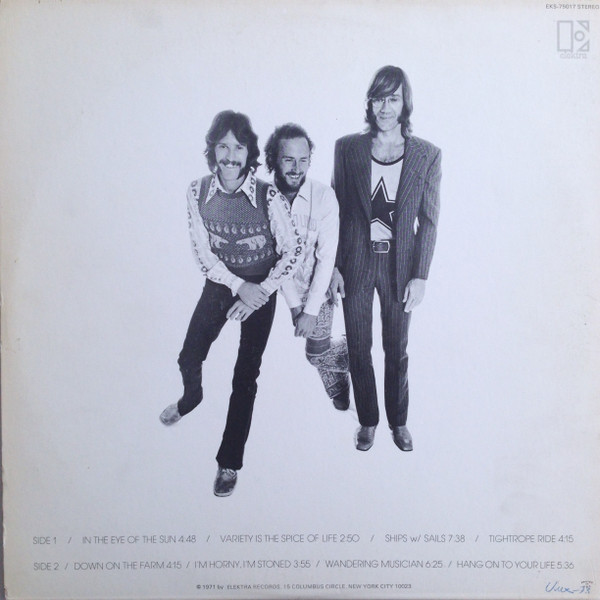 OTHER VOICES
Released: October, 1971
Produced by: The Doors and Bruce Botnick
Engineered by: Bruce Botnick
Cover Photo by: Ron Raffaelli
Label: Elektra EKS-75017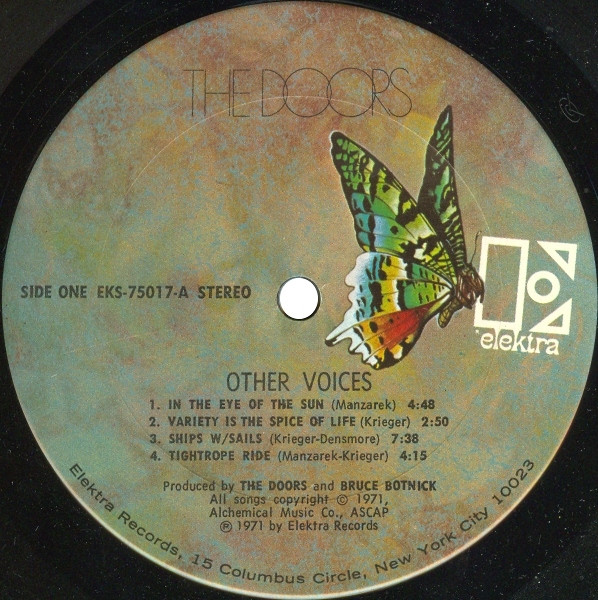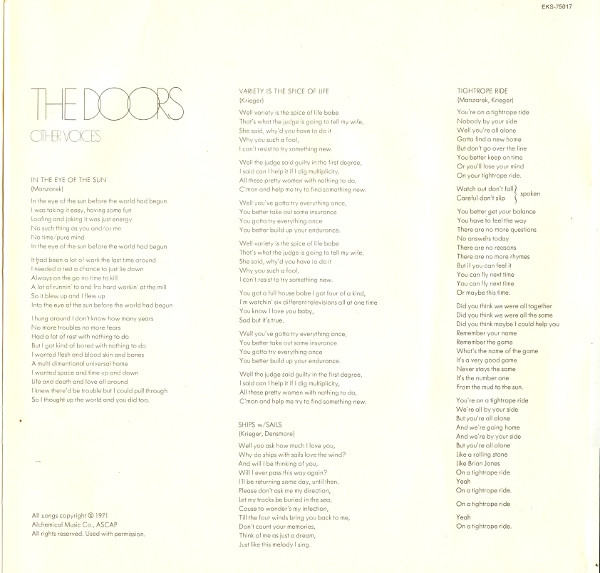 In The Eye Of The Sun (Ray Manzarek) (4:48)
Jack Conrad: bass

Variety Is The Spice Of Life (Robby Krieger) (2:50)
Jack Conrad: bass

Ships w/ Sails (Robby Krieger/John Densmore) (7:38)
Ray Neapolitan: bass
Willie Ruff: acoustic bass
Francisco Aguabella: percussion

Tightrope Ride (Ray Manzarek/Robby Krieger) (4:15)
Jack Conrad: bass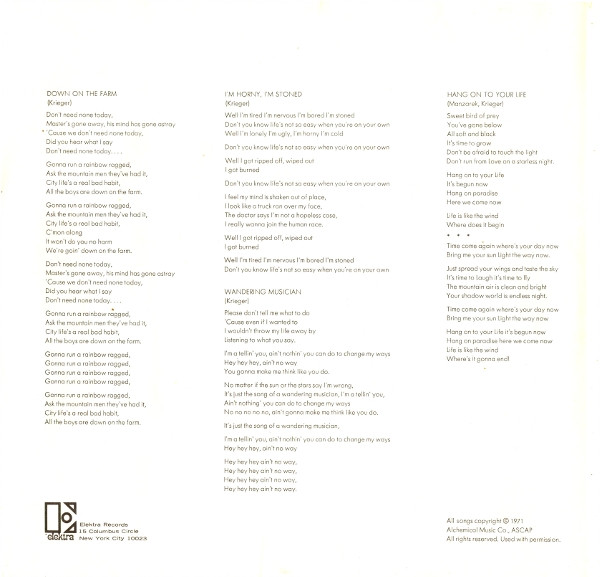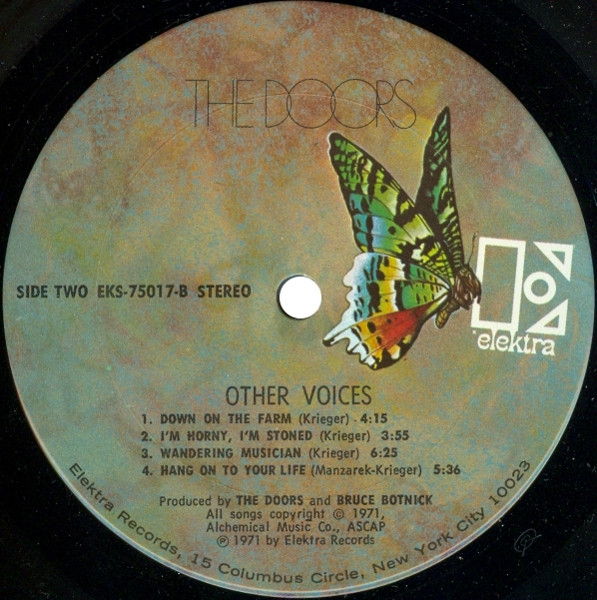 Down On The Farm (Robby Krieger) (4:15)
Jerry Scheff: bass
Emil Richards: marimba, kickshaws, whimwhams

I'm Horny, I'm Stoned (Robby Krieger) (3:55)
Jerry Scheff: bass

Wandering Musician (Robby Krieger) (6:25)
Jerry Scheff: bass

Hang On To Your Life (Ray Manzarek/Robby Krieger) (5:36) Wolfgang Meltz: bass
Francisco Aguabella: percussion

Total playing time 39:42
The Doors
Robby Krieger - guitars, vocals
Ray Manzarek - keyboards, vocals
John Densmore - drums

Other Voices
Released: October, 1971
Billboard peak: # 31
For lyrics, information and sheet music follow the links below
.
Other Voices Song Links
Hang On To Your Life
Tightrope Ride
Variety is the Spice of Life
I'm Horny, I'm Stoned
Wandering Musician
Down On The Farm
Ships w/ Sails
In the Eye of the Sun
I got Other Voices in 1971 .....before I had gotten all The Morrison Doors albums (could not afford albums much back then just singles and the odd album...also Doors albums were not very easy to get in Stockton back then!) .....so I was able to look at it from the point of view of a Doors fan but not one who had heard ALL The Doors material and was not really up on the Morrison Mystique at the time.....to be honest I knew little about The Doors as people until after Morrisons death. Mike Jahns book was my first real insight into the band along with articles in the WFTS songbook.....which I had before Jim's death.
So I have always enjoyed the album and find it sad that it has never really got the credit it deserves from Doors fans. Ships w/ Sails is a superb song and Tightrope Ride is Ray at his kick ass Screaming Ray Daniels best......Hang On To your Life and Wandering Musician are great....
True a few of the tracks are a bit cheesy...Down On The Farm and Variety is The Spice of Life are hardly Doors masterpieces but the music is Doors without a doubt even if the lyric department is a bit knackered without Morrison. compared to LA Woman its a dud but it IS a Doors album......pity the Doors cannot see that as they don't even mention it on thier own site...shame really as its cool....nice cover too..
3 PIECE DOORS COMPLETE LP.
The Doors have re-signed to Elektra Records as a trio and will be releasing thier first album since the death of Jim Morrison in the near future. It will be titled 'Other Voices'. The outfits current line up is Ray Manzarek, Robby Krieger and John Densmore.
Disc & Music Echo November 1971.
The Doors: Other Voices [Elektra, 1971]
Anyone can sing rock, but that doesn't mean just anyone. Richard Nixon can't, and neither can Barbra Streisand, and I bet Peter Fonda can't either. Well, neither can Ray Manzarek or Robbie Krieger, whose voices share one salient quality: uptightness. This record has some terrific moments, starting with the first hook riff, and the musicians deserve their reputations. But even a good singer couldn't do much with a line like "To roam is my infection," and this band could use a good singer. C+
Robert Christgau
The Dean of American rock critics
Despite the fact that Jim Morrison cast a long shadow, it must be remembered that the Doors were first and foremost a band. After Morrison's passing in Paris in the summer of 1971, the group received a generous offer from Elektra president Jac Holzman to continue their recording career. Most fans of the group wondered if the band would even have any appeal without Morrison. Would they still be powerful? Would they progress? Well, the answer is yes and no.
The Doors did a very smart thing on this record -- they didn't try to replace or approximate Morrison. The result is a less serious but still focused album that, in hindsight, has real appeal. "Ships W/Sails" basically takes off where "Riders on the Storm" left off: its Afro-Cuban groove is an absolute gas, and shows that three remaining Doors were indeed progressing as musicians. The vocals on the album, while not disastrous, certainly don't have the impact that the band had with Morrison.
The Doors knew this, and only tried to make an honest statement of where they were as musicians and not a social force. On this level, the effort succeeds admirably.
Matthew Greenwald, All Music Guide
Although one must admire the trio for trying to carry on, Other Voices only proved that the Doors as we know them were over. Most of the vocals are by Manzarek; although he has a distinctive speaking voice, his singing voice is somewhat insipid. The record begins promisingly with two lively tracks, but by the time the third track, "Ships w/Sails", is over, it becomes apparent that the record is going nowhere. One of the Doors' most celebrated assets -- the ability to create an effective mood -- evidently died with Morrison; one can only dream of what some of these songs ("Ships w/Sails" in particular) would have sounded like with the Lizard King performing them. Only "Down On The Farm" keeps the album's second side from being a total loss; the remainder is tiresome filler. "I'm Horny, I'm Stoned" is an embarrassing hippie singalong that sounds like Country Joe and the Fish or something. Come on, guys! Note: the song "Tightrope Ride" is available on Elektra's Doors box set; it is the only song from these two albums to be included on that set. Interestingly, the so-called Complete Recordings box set contains nothing at all from these two albums.
RAREBIRD'S ROCK AND ROLL RARITY REVIEWS
Hmm. It appears that the three remaining Doors foolishly continued without Jim, under the name "The Doors," assuming, for some reason, that they, and not Jim, were in fact "The Doors." As a trio, they put out both this record and another one called Full Circle. I haven't heard Full Circle (and neither have most of the rest of the people in the world), but I did manage to snag a two-dollar copy of this one down at my local Japanese-owned used book shop. And it's just terrible! I mean, you would think to yourself, "Oh, Jim was just the singer; certainly the actual musicians in the band could put out a halfway decent album by themselves." But you would be mistaken. Not only are these "other voices" not terribly attractive, but the music is terrible, alternating between dipshit country honk numbers and overpretentious Santana-esque noodlings. Aside from the bluesy opening track, which would have fit perfectly on L.A. Woman, none of this nonsense has anything to do with The Doors as respected. Did you notice that it was released the same year as L.A. Woman? Pretty anxious to get rid of the old Lizard King, wouldn't you say? I shudder to think how his reputation might have suffered had he lived long enough to take part in this miserable project. Pass it up! Even if you're just curious, don't be!
Mark's Internet Record Reviews
Check these links
Vote for the Post Jim albums
Tightrope Ride
Best Post Jim Moment
Post Jim Singles