Post by TheWallsScreamedPoetry on Mar 12, 2006 19:02:48 GMT
We put The Doors to bed. We didn't feel this was the greatest music. It was fun to do but to continue on without Morrison just wasn't the right thing to do.
Ray ManzarekDoors disband 1973
The Doors called it a day in March 1973 as with many pieces of Doors history the actual date is not known but it is generally thought to have been around mid March.
A great deal of confusion reigns to this day as to the actual events and many contradictory elements add to this confusion…..the band had come to London to audition a lead singer and find a second guitar player…..Howard Werth was indeed favourite because of Jac Holzman's recommendation but Kevin Coyne of Siren was also in the frame for a while….Howard was unveiled by the rock press in February 1973 as the almost certain replacement for Jim and shortly after a weeks rehearsal took place in Barnes on the river Thames…..then Ray decided to go home and call it a day and Robby and John later hooked up with Jess Roden who may or may not have been auditioned also as a Jim replacement ……the few remaining records from Melody Maker and NME help unravel the tangle of confusion a little….
HOWARD WERTH THE NEW JIM MORRISON?
Howard Werth former singer with Audience is virtually certain to become the successor to Jim Morrison as lead singer with The Doors. Audience broke up last September and the job with The Doors has come about due to the friendship between Werth's label boss Tony Stratton-Smith and Jac Holzman head of Elektra in America, The Doors label.
'Jac gave the early Audience albums to the Doors and they really liked Howard's singing and writing'...Stratton-Smith told MM this week. 'Then he called me from The States and asked how Howard would feel about working with The Doors. And he is very excited about it.'
The Doors are coming over to England next month to rehearse with Werth and tie up a deal which will put Howard into Jim Morrison's shoes.
Melody Maker 3rd February 1973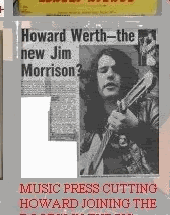 "My initial contact with the Doors came via Tony Stratton-Smith the head of Charisma records and also through Gus Dudgeon (Audience producer and later Elton John who sadly was killed in a car crash in July 2002) who had both been contacted by the Doors in order to try to reach me. As I was in the middle of recording the 'King Brilliant' album (Howard's debut solo LP after Audience disbanded) Tony was worried that I might abandon that project and so took his time telling me about the Doors thing. When I eventually found out through Gus I made contact and the remaining three members arrived in town and rehearsals were arranged, in an old summerhouse in Barnes by the river Thames.
I must add that the whole situation with the Doors was probably initiated by
Jack Holzman 'Mr.Elektra' who was a big Audience fan and whose plan to
replace the now Morrison-less Doors with Audience as the Elektra main focus
was scuppered by the fact that we had disbanded, this led to the initiation
of the idea of a merger between the remaining Doors and myself.
The rehearsals went well and we went through a lot of their early material and some stuff from their post Morrison album. After the rehearsal period the Doors stayed around town and I stayed in contact over the next few weeks, it then became apparent that Ray had decided that a reformation of the Doors was not to be (and never was). At this point Ray's wife Dorothy had become ill and so he returned to Los Angeles. I moved to L.A. in January of 1977 and got involved in the emerging punk scene recording and producing for the 'Dangerhouse' label where I produced the first recordings by 'X'.
I met up with Ray once again in the local supermarket (very R'n'R). I went to his place in the Hollywood hills and played him some material that I was working on he felt an immediate empathy with what I was doing and we spent some time in the studio recording my songs, with Ray producing and playing some keyboards.
Ray coincidentally then started to produce 'X' and wanted me to front the line up with him on keyboards the project being 'Howard Werth & the 'X' Ray' band with himself and Danny Sugarman managing.
Alas another project bit the dust (I had no work permit and was reluctant to commit) though I've stayed in contact with Ray over the years and he has discussed the possibilities of us recording together, which would be excellent.
I shall keep you posted on that one."
Howard Werth for The Doors4Scorpywag fanzine
Former Audience main man Howard Werth's 2003 solo LP "The Evolution Myth Explodes" is reissued. The album contains many new original songs from this great songwriter, and also a Lennon & McCartney composition, and Howard's arrangements of traditional pieces. A renowned songwriter and musician, with his trademark electro-nylon strung guitar, Howard is also a very well respected vocalist. He was head-hunted to work with The Doors, as Jim Morrison's replacement….. Ray Manzarek endorsed this album with: "Howard Werth, great voice, great songs, great album"
Kevin Coyne seems to have some confusion over when he was asked to audition for the vacant spot as on many Coyne websites he attests he was asked after Morrison's death in 1971 which was not the case…..Coyne was the lead singer for an English blues/folk outfit called Siren. The band had released a couple of marginally well-received albums on DJ John Peel's Dandelion Records and had been picked up for distribution in the US by Elektra Records.
"My manager in London was head of the European Elektra operations (Clive Selwood the man who had broken the Morrison death story to the media) and he put my name forward," says Coyne "With the result that one morning I was asked to come into the office and talk about this idea. I didn't show any enthusiasm, so it was forgotten. I didn't like The Doors to be honest. I like them today, but at that particular time I wasn't impressed. The thought of those leather trousers put me off as much as anything."
Other singers who were rumoured to have been asked but probably were not range from Joe Cocker & Paul McCartney to Eric Burdon & Iggy Pop….give it a few years and we will probably see Freddie Mercury and Will Young join the list….
'We came to London to find a vocalist and as we started jamming we realised more than ever that when you have a good professional singer who can do with his voice what someone else can do with an instrument how much more fluid everything is......but that led to writing problems. Everyone was doing songs ...myself included....and all of Ray's were real personal so it finally got to the point where it was obvious that he was the only one who could sing them because they were very philosophical, cosmic whatever. So how could another singer relate to something that was so personal? So when we first came over we were still together...sort of...but when we realised how very different our musical directions were heading...Ray split back home!"
John Densmore 1977"It wasn't very easy. You'd call up people and say 'Come down and jam' but they'd know it really was an audition and the pressure would creep in"
Robby Krieger 1984
"We were in England looking for a new singer a bass player a second guitarist whatever.....something to give The Doors new life. But it just got old...it just got boring. We'd been together too long.
Without Jim The Doors just were not the Doors anymore. It wasn't the same band. So we went to England to see if we could change things but we really didn't find anybody. A couple of guys we worked with were good but I thought it was time to put The Doors to bed so I said to John and Robby...'listen you guys lets just pass on this and end it'...so we did!"
Ray Manzarek 1978"We wanted to recharge our creative batteries just as Jim did when he went to Paris....but it really didn't work out. It was time to 'close' The Doors"
Ray Manzarek 1978
"It just wasn't the same without Jim. I felt that we were just lost man! It was impossible for us to continue as the Doors we should have recorded those albums as Manzarek, Densmore and Krieger it would have made a lot more sense and said hey we used to be the Doors but are not The Doors anymore the Doors are Jim Morrison, John Densmore, Robby Krieger and Ray Manzarek.
That's the Doors. Take away ANY (his emphasis NOT mine) part and it's not The Doors anymore and man we lost the number one part the lead singer himself…the word man and it was impossible to continue to be The Doors so after the second album I just said hey man lets put it to bed you guys…lets close the Doors…no sense continuing. We are not The Doors…The Doors are four people The Doors are not three people and we could never replace Jim Morrison and so lets just give up"
Ray Manzarek
Three Hours For Magic Radio Show 1982
"I have to date the death of The Doors with the death of Jim Morrison even though we did two more albums. I've been away from the whole Doors thing for three years now and I'm still in the process of exploring all kinds of musical facets and styles but on the other hand I know I'll never get completely away from The Doors."
Ray Manzarek. The Gig Magazine November 1974
"The only thing to do after Jim died was to keep making music but it wasn't right without Jim. Quite honestly the new Doors was some other band that I didn't care to be in. but that whole period was the beginning of me as a composer. I'd never written much before but when Jim died the rest of us had to start writing."
Ray Manzarek talking to Barbara Charone NME July 1974."I think the main reason we broke up was not the fans missed Jim but because we as a group missed him".....Robby Krieger
After the split John and Robby looked for a new idea and hooked up with Jess Roden who may well have been considered as a Morrison replacement along with Coyne and Werth to form a new as then un named band. Rehearsals were booked in the name 'The Doors' which caused even more confusion among the eager rock media.
Eventually The Butts Band was formed with Phil Chen & Roy Davies.
"Jess Roden recently joined former Doors John Densmore & Robby Krieger and he might be forgiven for thinking the spectre Jim Morrison was about to haunt his every move. Yet Roden insists that the new group which includes Phil Chen & Roy Davies is not intended as a new Doors and readily admits he is a vastly different vocalist and personality from the mincing Morrison.
"I am a singer not a showman. I'm not a sex symbol and that I believe is the difference. I'm here to sing not create news stories. When I joined Ray Manzarek had left and we just came together for an album. Then the other guys came along and it became a band. From the first day I met them they said they wanted to start afresh…a whole new effort. Roden first became known through the Alan Bown Set as an archetypal Mod vocalist in the mid sixties during the great Mod boom. Back then he was an emaciated Soho cool Mod vocalist and in those days the Alan Bown Set at the Marquee was big news. Tastes changed as he became interested in West Coast music particularly The Grateful Dead forming Bronco a neat and underrated countrified band whose break up led Roden into a spell of music disenchantment and eventually The 'Doors' gig.
"There are a couple of numbers similar to old Doors material but there's something different there because of the variety of influences in the band. I think we will be working on a rhythmic feel rather than anything too intricate. Basically the band is based on a combination of experiences and enthusiasm. We've all been around had our ups and downs so everybody knows what they're doing. It's not like starting again with a bunch of teenagers. I think it's going to work out well".
NME 8th September 1973
"I wasn't too sure about it at the time because I know I'm no Jim Morrison. That's just not my cup of tea at all. And I'm really not the kind of guy who could hold a position of being an outrageous singer fronting a group. But I realized the band probably wouldn't carry on as The Doors anyway once other musicians were introduced...and that's the way it worked out...."
Jess Roden to NME June 22nd 1974.I used to have all the cuttings from the UK rock press from this time but no longer have them…anyone got any more information to add to this under archived period?

What reaction was there to it in the US?

At the time I was severely disappointed as I was looking forward to hearing Werth perform with The Doors as I was (still am) a huge Audience fan….but with hindsight it was the right decision and Ray was brave to take the initial step that ended The Doors……