Post by TheWallsScreamedPoetry on Jan 15, 2005 11:30:48 GMT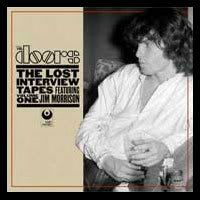 1. 1970 CANADIAN BROADCASTING CORPORATION INTERVIEW 26:49
An Excerpt Regarding What Young People Worship
An Excerpt Regarding A Poem From 'The Lords And The New Creatures'
An Excerpt Regarding Sex
2. 1967 UNIVERSITY OF NEW YORK AT OSWEGO INTERVIEW 28:22
An Excerpt Regarding The Band's Introduction
An Excerpt Regarding Audience Dancing At Concerts
An Excerpt Regarding Performing On 'The Ed Sullivan Show'

An Excerpt From Danny Sugerman's Sleeve Notes:

When The Doors were hard at work on 'L.A. Woman' they received an inquiry from a Toronto based writer who worked with the Canadian Broadcasting Corporation. Most interviews were denied at this point in time, especially if there wasn't anything new to talk about, like a new album hitting the stores. But this person, Tony Thomas, wanted to talk intelligently about something other than The Doors and Jim's icon status. He wanted to talk about Jim's poetry and the upcoming publication of 'The Lords And The New Creatures', Jim's first published poetry book, of which he was so proud.

In May 1970, Jim Morrison sat and talked with Tony Thomas at The Doors West Hollywood office. The interview was reportedly aired as a brief news excerpt, but the interview in its entirety has never broadcast or published. Also included is one of The Doors earliest radio interviews. Booked to play a gig at the University Of New York at Oswego in upstate New York, the band agreed with Elektra's East Coast Radio Promotion Man to do an interview to promote their debut album. Just prior to showtime, backstage, in walks an interviewer, carrying a small reel-to-reel tape recorder on loan from the University's Audio/Visual Department. Confronted by what Manzarek today recalls as "a short, sophomoronic, chubby geek", the band was clearly disappointed by what they learned to be true reason for the interview - that it was to be broadcast only on a local radio station with "a range of approximately thirty yards", to quote Manzarek again, and about as many watts, that the radio station prohibited the broadcast of rock 'n' roll, and, finally, that this guy only had an interview show that was to feature "locals and guests". Hence, this interview, seen, or rather heard, in this context, makes the material more revealing for what it doesn't contain than what it does. Which is not to say the interview is not entertaining. Far from it.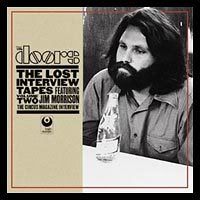 1. ABOUT ABSOLUTELY LIVE 3:06
2. WHY THE LACK OF PRACTICE? 1:06
3. DO YOU HAVE A GREAT BIG EGO? 1:03
4. HOW DO YOU FEEL ABOUT BEING CALLED THE LIZARD KING? 2:37
5. DO YOU BELIEVE IN REINCARNATION? 0:22
6. WHAT IS YOUR PRIMARY BELIEF? 0:22
7. WHAT KIND OF FILMS DID YOU MAKE AT UCLA? 0:57
8. WHAT GRADE DID THEY GIVE YOU? 1:11
9. THE IDEA FOR THEATRICALITY IN ROCK 1:13
10. WHAT WAS YOUR STATE OF MIND IN MIAMI? 0:53
11. JIM: I HAD A TRIAL 0:47
12. WHAT DID YOU DO THAT EVENING? 1:51
13. PEOPLE SAY THE DOORS HAVE DECLINED 1:21
14. POP IDOLS AND ROCK STARS 0:48
15. JIM: A HERO IS SOMEONE WHO REBELS AGAINST THE FACTS OF EXISTENCE 0:53
16. WHAT DO YOU THINK OF YOURSELF AS A HUMAN BEING? 0:35
17. IF YOU HAD TO DO THE WHOLE THING OVER WHAT WOULD YOU HAVE DONE? 1:20
18. WHAT DO YOU PLAN TO DO IN THE FUTURE? 0:42
19. HOW IS YOUR BOOK DOING? 0:33
20. WITH THE DEATHS OF JIMI AND JANIS, WHY DO YOU THINK THEY BURNED THEMSELVES OUT? 1:43
21. HOW DO YOU THINK YOU'LL DIE? 1:00
22. WHAT ABOUT THE STATE OF AMERICA? 1:04
23. WHAT IS THE CLIMATE OF AMERICA IN YOUR OPINION? 1:09
24. IF YOU SPEND EIGHT MONTHS IN JAIL, WHAT'S GOING TO HAPPEN TO THE GROUP? 0:52
25. HAS IT DEFINITELY BEEN DECIDED THAT YOU'RE GOING TO JAIL? 3:02
26. WHAT WAS THE ISLE OF WIGHT CONCERT LIKE? 2:04
27. THE TRIAL, WERE YOU SCARED? 4:58
28. WHAT ABOUT THE POLICE? 1:34
29. HAVE YOU EVER BEEN HASSLED ON THE ROAD BY THE POLICE? 1:19
30. I DIDN'T KNOW YOU HAVE A SISTER 0:16
31. HOW DID YOUR FAME AFFECT YOUR FAMILY? 0:34
32. HAVE YOUR EARLIER VISUALIZATIONS FOR THE GROUP BECOME A REALIZATION? 1:15
33. RESTART THE CASSETTE MACHINE 0:36
34. JIM: I LIKE INTERVIEWS 2:53
35. THE STOOGES AND OTHER GROUPS 2:24
36. JIM: ABOUT LOVE 0:57
37. JIM: JOHN GOT MARRIED SUNDAY 0:58
38. JIM: THE GROUP'S AT A CRITICAL POINT 0:27
39. JIM: ABOUT INTERVIEWS 5:42
40. HAVE YOU SEEN THE COMPANY THEATRE PLAY? 0:49
41. HOW DO YOU FEEL ABOUT PLAYS WRITTEN ABOUT YOU? 0:50


An Excerpt From Salli Stevenson's Sleeve Notes:

In August 1970, the government and "cornbread and apple pie" America were at war with protesters, hippies and rock stars. Morrison had a bad habit. He liked to challenge authority and, in 1969, he became a bad example for every kid in the State of Florida.

At that time, I was a freelance writer for several magazines. Gerald Rothberg, the publisher of Circus Magazine, and I were looking for someone electric, controversial and charismatic to interview. I suggested Morrison. My assignment was set.

Actually getting the interview was a challenge. Morrison was not speaking to the press, especially about his trial. That's exactly what I wanted to talk about - his trial, Florida's judicial system and how Morrison intended to handle his life in the future.

For two months Elektra and I negotiated. Two interviews were set, then cancelled. The reason had to be Morrison's tenuous legal position. Since he'd ignited a vindictive Florida court system, quotable gasoline wasn't needed. After thinking it over, I suggested that Morrison could edit the transcript of our interview to avoid being legally compromised, should he be found guilty and have to appeal. With that agreed to, the interview was set. I felt like I'd won a reporter's victory.

Check the interview out here!
newdoorstalk.proboards43.com/index.cgi?board=int&action=display&thread=1145893661&page=1