Post by TheWallsScreamedPoetry on Feb 20, 2005 21:03:11 GMT
The Door by Todd Taylor from Los Angeles
Once in a while, you come across occurrences that generally have little meaning, but sometimes certain things reveal themselves to be small treasures that last a Lifetime. One such occurrence happened upon me not so long ago. Looking at it from the outside it seems a coincidence or rather an attempt at giving it significance. Having said that, I still think of it as a special treat that the city of Los Angeles has to offer.
In my travels through West Hollywood to local bars & nightclubs I've found various spots where not only is it appealing to the eye, it gives off a certain feel that sets certain moods. West Hollywood has a rich diversity of architecture & home to many artist, actors, playwrights, directors, etc. This brings in an enormous amount of wealth in the area, which doesn't mean taste. Most of the time its easy just by looking at the buildings to determine weather someone's has money or taste.
Being a musician I roam around soaking up as much of this famous city as I can. I was never much of a fan of LA's most famous band in my earlier years, but as time went by I became more aware of their music.
By the time I arrived in LA I had become a great admirer of this band & most notably its lead singer. This band is none other than "The Doors" I went out hitting the usual places that I think everybody knows, such as, Barney's Beanery, Whiskey a go-go, Benvenitos (The Doors Office) & so forth. As the years went by I decided to do a short documentary of the band. I started scoping out all the places for the shoot & that took a few weeks, then off to the printed material. I would like to say for a band that was around for some six years time there is a ton of material out there. I think that's why it will take some time before I come up with a detailed script.
In my quest for material I came across an article about Pam & Jim's last residence here in Los Angeles. The article was about how the city should put
this place on its historical sites. Its apparently quiet old now & it's historical for being Jim Morrison's last residence. It's was the last place Pam & Jim lived. Well, now it has officially been inaugurated as a historical site.
The building has a Spanish architecture look to it. Its white walls give it an artsy feel to it and are surrounded by an iron gate. The door is up in front of a long stairway that has Spanish tile & Celtic tiles as well.
The door is small with white wooden borders that divide it into ten panels.
Its look out view point accentuates its appearance. The Iron Gate is about five feet tall & coated white. On the left side there's a pathway that leads to a courtyard. I've never been back there so I fall short of the description.
The windows on the top floor overlook the small front patio.
There are two floors to the building. Pam lived on the second floor & a friend of hers lived below her on the right side.
There is a small plaque stating "Last US Home Jim Morrison" which I have never noticed before. It's behind a small thick tree in the front & as you walk past if you're not looking for it you'll pass right by it without noticing it. However, Jim at the time was staying at the Château Marmont.
He would come over to crash allot, since the office was right down the street. Pam left for Paris by Feb. 1971 & Jim followed in March leaving the place forever.
How this all relates to me is that during my nights out.
I used to walk along Norton Ave. on my way to Barney's or the Rainbow to play a Monday nights gig. Well hell, I always walked down this avenue to my favorite night spots, because I like to walk with a 24oz. Coors while I contemplate the evening festivities.
It's much safer & nicer to walk down Norton then it is to walk down the cop ridden Santa Monica Boulevard.
The architecture in Los Angeles ranges from down right ugly to the majestic.
All side by side too.
The evenings are absolutely beautiful.
Walking down Norton one evening I came across this door leading upstairs.
It completely struck me as an odd looking entrance.
How it just goes right from the street to the top floor.
As I looked at the building it was completely different than the surrounding buildings which were your homes and not apartments.
The smell of the entrance gave it an old feel and it was.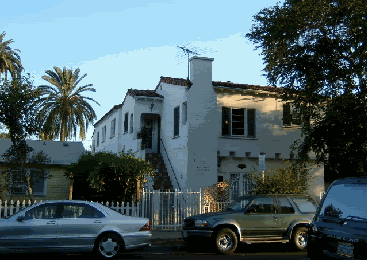 I obviously liked the designed and build.
I thought how cool it would be to come home to this every night.
If I had enough bread I could score a place like this fore sure.
I thought the walkway leading to the top was so hip with its Celtic tiles mixed with the Spanish tiles.
I could imagine a fire-place lit while I listen to some Beethoven.
Drinking wine and ordering a hamburger from the French Market down the street.
I know a hamburger.
Not much more than that about the place.
I would walk by this place every time I used this route.
This went on until I discovered its identity.
There I was trying to find this place on 8214 Norton Avenue to be reviewed for a historical landmark.
Cheri Woods owns the building who I later found out has a daughter named Tiana Woods who sings in a band called "Vincent Street".
I went out to look for this place sometime after I had read the article which was late of last year.
I was heading down Norton just past Fairfax Avenue where I live and hoping it was close to my house.
It is, but not as close as I would have wanted it.
Anyway, I walked down about five blocks still not finding it for the street numbers were still in the six to seven thousand blocks.
I passed Crescent Heights which is a busy wide street and got on to the other side. I began to feel a sense that I was getting close.
I'm not sure what it was I just had a feeling.
The street numbers were closing in on the 8000 block, but there was a sense that I knew where I was headed.
I had heard of another one of Jim's places that had a totem pole in the front, but that was in Laurel Canyon and this was close and very new to me.
I came upon the street where that building and door I had fancied so much. Sure enough as I approached the numbers 8214 Norton Avenue there it was……. The Door.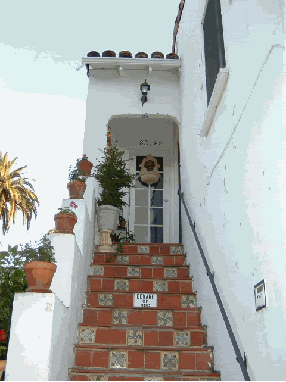 Of all the places I like in Los Angeles walking around there was something about this place and know I know.
Jim Morrison.
The poet I had grown to love was here thirty odd years ago.
I could almost imagine him strolling on up to the door & ringing Pam or her friend who had lived on the first floor.
I could see him walking out for the last time unaware that he would never see Los Angeles again.
Not knowing that someday the city would make this place a historical landmark.
The strangest life he never knew.
Well Jim thank you for all the music and words that you have given me.
Thank you for this little small connection I will never forget.
Now I will level my thumb in the calm calculus of reason. Goodbye & good luck.
Todd Taylor from Los Angeles
featured in Doors4Scorpywag Summer 2004