Post by TheWallsScreamedPoetry on Mar 21, 2011 15:44:34 GMT
Butts Band Single releases .
Pop A Top b/w Baja Bus
Blue Thumb 242 1973
Butts Band Pop A Top/Baja Bus 7" single released as a 1973 taster for the album which was released in January 1974.
I Won't Be Alone Anymore b/w Kansas City
Blue Thumb 252 1974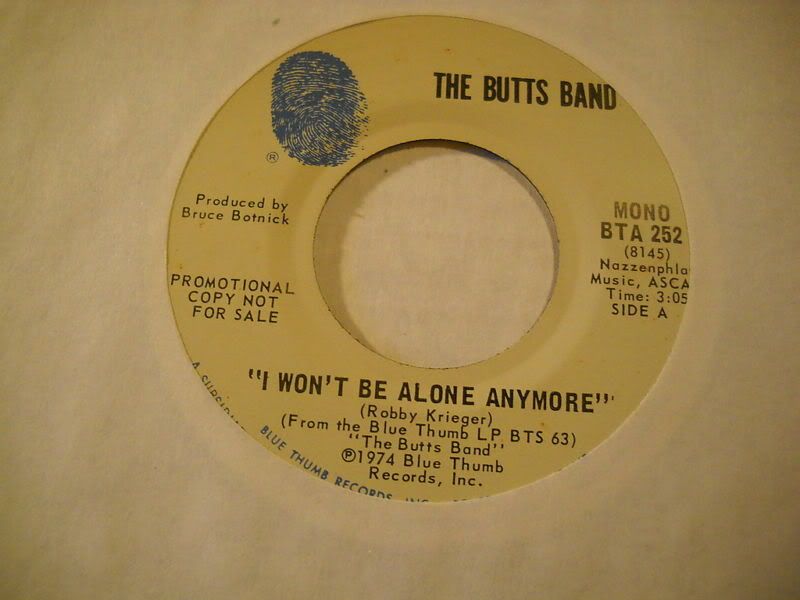 The Butts Band - I Won't Be Alone Anymore (1974)
The Doors' lead singer, Jim Morrison, died in 1971, the remaining members of The Doors were in disarray about their group's future. Should they find a replacement? They released two albums without their lead man before considering the idea of bringing in a new lead vocalist. After a few failed auditions in London in 1973, The Doors' keyboardist Ray Manzarek decided to head back to California and consequently left the band. The remaining members, John Densmore and Robby Krieger, decided to form an entirely new band that same year.
Gathering a group of musicians to play by their side, they chose a name to mimic their feelings of desperation and desire to start creating again; the chosen name was what you read above.
After the release of their first album, The Butts Band, the pressure of the band members' homes being split between Los Angeles and London was too much for the group and they split up. Densmore and Krieger continued under the same name by bringing together new musicians. They released one last album, Hear and Now, in 1975, before calling it quits for the final time.
Written by Robby Krieger, this song was the opening track to the group's first album, The Butts Band, released in 1974. With a juvenile name for their band and the public's pre-conceived notion that they were going to be as close as one could imagine to The Doors' continuation, the general populace was somewhat surprised when they heard tracks like the one heard below.
Gone was the intensity and keyboard-centered songs of yesteryear. In its place was a laid-back folky sound leaning toward the jazz that would soon take over Robby Krieger's style.
Don't expect to hear The Doors here.
From A Bit Like You & Me.com February 2013