Post by TheWallsScreamedPoetry on Mar 31, 2006 11:26:34 GMT
by 'Porsche'
"I thought this might be a discussion worth having. I recently received the Doors Collectors Magazine's (www.doors.com) monthly newsletter listing their latest items for sale. Normally, I don't care very much for what's in there because most of it is painfully overpriced. But I do occasionally look at what they have to offer just out of curiousity.
One item Mr. Kerry Humpherys put up for sale and apparently sold just as quickly (I think it's cute that he writes "sold out" as if there were more than one) was a 1961 George Washington High School Yearbook allegedly inscribed by Jim Morrison to his "favorite girl."
My concern is that the signature is a fake and that the DCM should have realized this before selling it to an unknowing fan. I don't believe that Kerry or anyone else at the DCM created the forgery, but whoever once owned the yearbook likely did, possibly when Jim's fame increased in the late '60s -- notice the youthful, feminine quality of the signature. Throw in the all-too-hokey dedication of "To my favorite girl, love forever" and my suspicions are raised even higher.
I realize that signatures can change over time, but I do remember reading somewhere that most people's handwriting does not change much after high school. Perhaps there's more maturity to a signature or handwriting style, but all in all it should still be recognizable. In Jim's case, his handwriting was always pretty sloppy. The handwriting and signature in this yearbook bares no resemblance to any Jim Morrison signature I've ever seen. The DCM, which prides itself on dealing with so much authentic, rare material, should have known better than to sell what I believe is an all too obvious forgery.
But this is a democracy. You have my opinion. Please judge for yourselves."
Alleged yearbook forgery from 1961: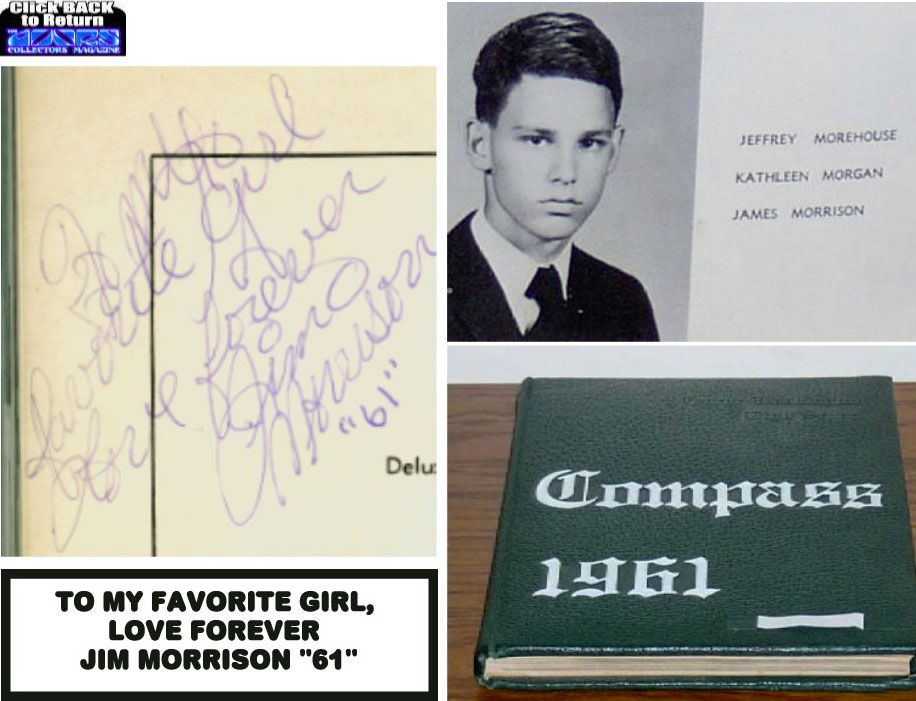 Jim's authentic signature from a signed copy of 'An American Prayer':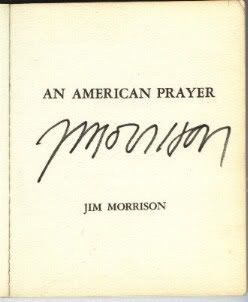 An authentic page of Jim's handwriting from 1957: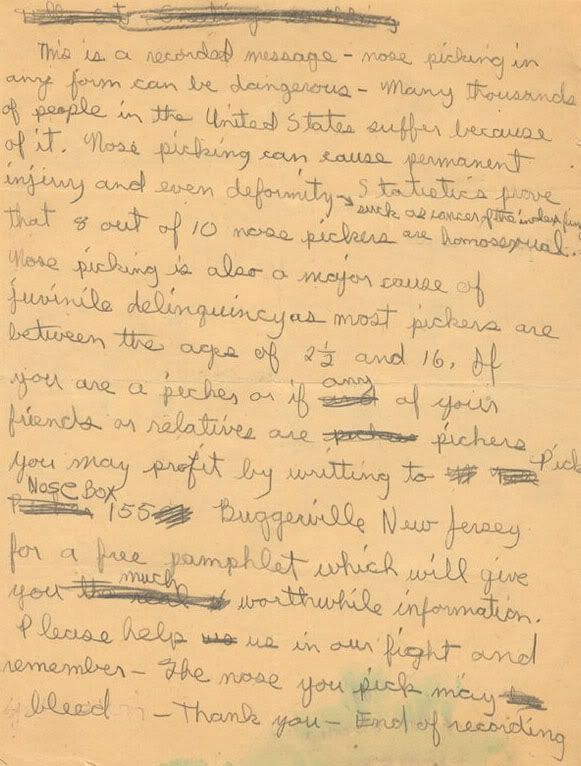 An authentic page of Jim's handwriting from a letter written to Dave Marsh in 1970
(notice the matured resemblance to the 1957 sample despite a 13-year difference):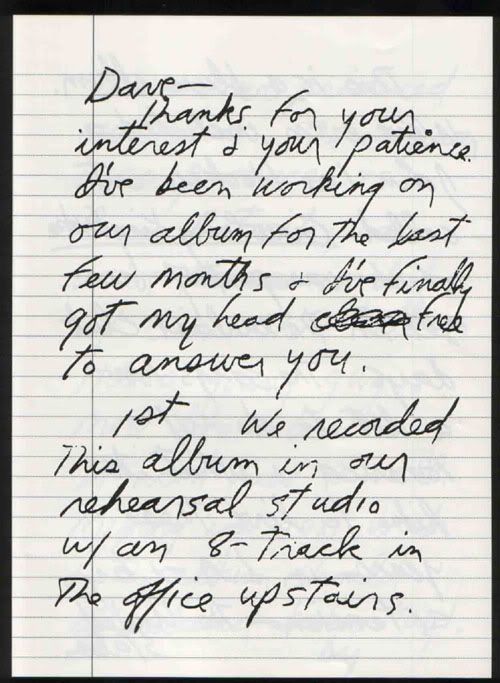 Len aka 'Porsche' suggested to me that maybe this might interest a few here.....so I added the post he made on the LL.......
I must admit that I was surprised when I saw it mentioned on the DCM newsletter a few days ago and now seeing it am a lot more wary....it looks like a poor fake especially the rather cheesy and to me clumsy message 'Jim' left........maybe its real....but it don't look real.....
Rare autographs are big business and many trade on that......the famous copy of Weird Scenes Inside The Goldmine that was sold a few years back with Jims autograph comes to mind and lest not get into Patricia and her Fireheart cobblers..........as do the copies of LA Woman that do the rounds.......this one looks so obviously fake so even if it wasn't DCM maybe should have excercised some discretion here.......not worth losing a hard earned reputation over some badly executed forgery.....maybe its the real deal but it does not look like it is.......