Post by TheWallsScreamedPoetry on Jun 21, 2011 14:21:58 GMT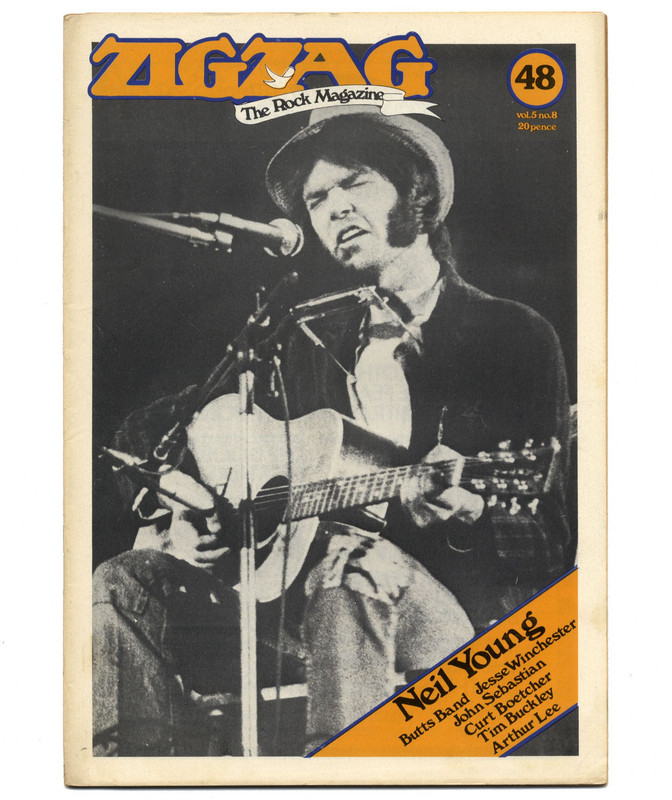 The Life And Death Of The Butts Band
DEFUNCT GROUPS are not normally my stock in trade, or that of ZigZag in general, but very occasionally the opportunity arises to learn something of a bunch who for one reason or another have ceased to function.
In this case, the group's extinction became clear a short while after doing the interview, which was intended as a contribution to Rockspeak which was not used, just because of the group's extinction. My thanks therefore to John Walters for allowing me to use the interview as the basis for this piece.
Perhaps the first part of this should be edited interview. All you need to know is that I'm speaking with John Densmore, drummer with the Butts Band, and that the interview was done around the spring of this year, when the band were briefly over here.
THE INTERVIEW
ZZ: What are you doing in England?
JD: Well, Jess [Roden], Phil [Chen] and Roy [Davies] had been to LA the last two times, and since half of us live in England and half in LA, it was our turn to come here. We're doing a TV show (OGWT), playing the Palladium and a couple of other gigs, and we're getting back together.
ZZ: How long is it since you saw the rest of the band?
JD: About a month and a half. We're nearly always in touch – maybe three weeks go by, but not much more.
ZZ: You've made one album, which took a long time to get together seemingly. Are you working on another, or has this one recently come out in the States?
JD: It's been out about two months, but songs are constantly cropping up. I don't know how soon, or with whom, they're going to be recorded, but Robbie's [Krieger] writing a lot more good stuff. [Remember, he wrote 'Light My Fire'?] But the first album took a long time [since the last Doors' album, that is], because of a lot of changes. First, we came over with Ray [Manzarek] as The Doors, and we were still together, then Ray split off and went back home, and we realised our musical directions were really going differently. Then Robbie and I decided that as we'd come over here to start something new, we should do just that, so for the next four months, we lived here, and jammed with different people, and sorted it all out. Then we recorded half of the album at Olympic, and the other half in Jamaica on the way home. Jess was the first guy to join the band. We hadn't heard Bronco, because they didn't make any dent in the States, but Davy Harper, our roadie whom we shared with Traffic, mentioned Jess, and that's how we got on to him. We went through a few singers – it's kinda touchy, because you try to seem relaxed and just jam, but then everybody knows you're checking them out. Jess seemed right though, because he sang Robbie's melodies well, and he had some of his own stuff, and he brought Phillip and Roy.
Phillip's really an excellent bass player, that's why we got him, for sure. We went through a lot of bass players, and then he came in, and we didn't even start a song – he played for ten seconds, and Robbie and I looked at each other – "That's it!"
ZZ: Jess is going to make a solo album. Are you involved in that?
JD: No, that's something to do with his commitment to Island, because he's been on the label for years.
ZZ: Why, after your long connection with Elektra as The Doors, did you move to Blue Thumb?
JD: While we were in the process of thinking about signing the Butts Band to Elektra, Jac Holzman 'retired', and we had had a fairly good relationship with him over the years. He was a sort of friend as well as our 'father', and he was up and gone, so we were out on the street.
ZZ: Wasn't the Original idea to be signed to Island in the UK and to Elektra in the States because of the various contractual commitments?
JD: That was one of the ideas. It changed round quite a bit, because Jac was going, and Bob Krasnow (of Blue Thumb) had been in the background all along, and he had really liked the band. So when Jac went, which we don't mind, because he was perfectly entitled to do that, we remembered Krasnow, and he was really enthusiastic. That was it – it wasn't money really, he was just very committed.
ZZ: According to the record, it seems that Mick Weaver [Wynder K. Frogg] was the original organ player, in the band....
JD: I don't think Mick was to be in the band, and Mick knew it too. He just did a couple of sessions for us on the London side of the record.
ZZ: There's a live track of 'Kansas City' on the album. Where was that recorded?
JD: It was done at Olympic Studios with some people in there. It's definitely overused as a song, but we were just having a good time in the studio, and we liked it.
ZZ: Phillip was born in Jamaica, and he's credited with 'reggae guitar' on one track. Is the fact that you recorded in Jamaica something to do with him? And has reggae given you some food for thought, to the extent that you want to continue with it?
JD: Perhaps it was his influence that we recorded there, but I don't know...he's lived in England for about eight years. But we don't play reggae, it's just influenced, not Jimmy Cliff by any means. In fact, the bit in the press handout that says we're really caught up with reggae has been blown out of all proportion. It's just that Phil was born there....I think we're more a white soul band than a reggae type.
ZZ: Listening to the album, I get the impression that this is the first album where I've really been able to hear Robbie. Is it possible that he'd wanted to be upfront a little more in the past?
JD: I think so. With Ray, they'd always share the solos in Doors songs, and now Robbie can stand out a bit more – not as a showman, but as a guitar player, because he's sorta shy. But he gets to pick a lot more now, so it's good.
ZZ: Was that the reason that the Doors finally broke up?
JD: No, it wasn't really that, it was more the writing. Everybody was writing songs, including me, and all Ray's songs were real personal, so that it finally got to the point where it was obvious that he would be the only one who could sing them, because they'd be very philosophical and cosmic and whatever, and another singer couldn't relate to them, because they were so personal. And that's what happened.
ZZ: The last album you made as The Doors, Full Circle, was a bit of a disaster to me. Does it strike you that way, in retrospect?
JD: In retrospect, yeah. But at the time, we had our hearts in it, although halfway through, the songwriting thing started to get on everyone's nerves – which song were we going to do, and Ray's were turning out this way, and Robbie's that way, and it got a little touchy, so that the album didn't turn out all that well.
ZZ: The fact that you have a vocalist in the Butts Band seems to indicate that you felt you really needed one again....
JD: That's what we all originally came over for, Robbie, Ray and I, and as we started jamming with vocalists, We realised that more than ever, because when you have a professional singer, a good singer who can do with his voice what someone else can do with his instrument, then you realise how much more fluent it is.
ZZ: Do you feel that your record is inevitably going to sound a little like the Doors, just becuase of what you and Robbie have done in the past?
JD: No, I don't think it sounds like the Doors, I can be objective now, but when we were making it, I couldn't tell, actually. I don't think it sounds like the Doors beyond that the guitar player and the drummer are from the Doors, but I think Ray's going to take off where the Doors left off, with your mystical piano playing. Robbie and I really have been influenced by different stuff now, and I think it's going to go further away. Feels good to do new...to be done with the Doors. I mean, it was great, believe me, but it's fresh now, and it's exciting to start all over again, and scuffle around.
ZZ: Have you heard about this group in the States who have a vocalist who sounds like Jim [Morrison]?
JD: Yeah, Calm Before The Storm. I knew right away it wasn't Jim, immediately. The guy's voice is much deeper. But as the song went along, I thought "Damn, he's sure copped the style!" It definitely got a chuckle out of me.
ZZ: I think the legend of Jim Morrison continues. Whatever anyone says, it seems there are still Morrison freaks around.
JD: He was supposed to have appeared in San Francisco a few months back, and he went into a bank and took out an account. But then we read the article, and he was with two bodyguards, and we said, "No, that's not Jim." Nobody ever recognised Jim.
ZZ: Personally, I'm not too sure that he is dead, because of the strange circumstances.
JD: I'm sure. All I can say is if anyone tried to pull something off like this, he'd be the one.
SUBSEQUENT HAPPENINGS
Since our conversation, certain things have happened. Let's just summarise, starting with Ray Manzarek, the Door who, like Renee, walked away. Ray signed up with Mercury, and made an album called The Golden Scarab, backed by a basic group of Larry Carlton, Jerry Scheff and Tony Williams, about which more a little later. Recently, he is supposed to have befriended one Iggy Stooge, the intention being to "do another Doors," I should think. They have as much chance as I have of being king.
After playing their one concert at the Palladium, which I saw, and which was fabulous, even though Nick Kent disagreed with me at the time, the Butts Band have to all intents and purposes broken up. Jess Roden was, I think, the first to go, and that solo album which was referred to in the interview has now been made. There is also now a Jess Roden band, which was known before (without Jess), as Iguana, who had a fairly harmless album out a couple of years ago on Polydor. Roy Davies, who was stunning on the gig at the Palladium, decided to stay with Gonzalez, a band with whom he was playing on and off during the Butts Band's life. Densmore said of that band: "...this band which has fifteen or twenty have two or three drummers or bass players or whatever. When someone can't make it, the other one does. They're just a local band of really good players who play the clubs, and I think they've just made an album."
Through the good offices of Panda Agency, a bunch who are not at all disconnected with the extremely wonderful Starry Eyed And Laughing, I have some more details of the mythical Gonzalez, who claim to have been going for three years or more, although it was only this year that they have achieved any prominence. Among the members of the group are Mick Eve (tenor), ex Blue Flames and Herbie Goins and the Nightimers, Chris Mercer (various saxes), ex Mayall, Hartley, Juicy Lucy (!), and it says here Dr John, Steve Gregory (various saxes), ex Tony Colton and the Crawdaddies, Geno Washington, Alan Price, Airforce and possibly still a member of Riff Raff, if they're still going, Bud Beadle (more various saxes), ex Geno Washington, Airforce and also perhaps still with Riff Raff, Gordon Hunte (guitar), ex Noir and Johnny Nash, Lisle Harper (bass), ex Gass, Nightimers, Juicy Lucy and Stealer's Wheel and so on etc., etc. I've also read that Rosko Gee, now Traffic's bass player, was in the band for awhile, and it may be worth noting that several of these people are with Georgie Fame's new touring Blue Flames. It is rumoured that the Gonzalez album should be available through the miracle of EMI before the end of the year, and may be worth watching and listening for. Phillip Chen appears to have returned to session work, and he's pretty good as well, so look out for his name. Connor, the aborigine of the group, tells me that Chen is on a Linda Lewis album somewhere, but as I don't have any of that lady's work, all I can think of to say is "Rock-a-doodle-doo".
THE RECORDS
As there is no Gonzalez album so far (see footnote), that leaves us with three. First off, the Butts Band album, on Blue Thumb as you know. The front cover is worth a mention – it is a picture of a very wonderful, but rather battered Fender amplifier, which John Densmore says belongs to Robbie Krieger. It has thus seen some truly astonishing music, and while I'm not about to give you a line about the Butts Band being the equal of The Doors albums where Jim Morrison was involved, it is probably better than Other Voices, the first post Morrison Doors album and it is infinitely superior to Full Circle. There is something to enjoy in every track, and while I can't comment on their live performances of particular songs, due to the fact that no introductions were made at the Palladium, I'm sure that I heard some of it sounding just as good on stage. The Jamaican side of the record, side one, is preferable, with two fine Krieger solos on 'I Won't Be Alone Anymore' and 'Pop-A-Top', the latter of which also has Phillip Chen playing something called reggae guitar, which makes a splendid noise. I'm afraid that whatever John thinks, I can definitely hear The Doors in the two Krieger written tracks, 'I Won't Be Alone Anymore' and 'Baja Bus', while the other two songs don't have any definite sound to them, which is not meant to be a negative judgement. The second side has still more Krieger brilliance on the Roden composition 'New Ways' and especially on the live 'Kansas City', where the guitar reaches heights of absurd brilliance. You'll have to forgive me for singling out Robbie Krieger, because I'm hopelessly biased in his favour, but it is only fair to say that Davies takes several excellent solos, notably on 'Baja Bus' and 'Sweet Danger', Chen is as brilliant as it is possible for a bass player to be throughout, Densmore is as solidly reliable as he was in The Doors, and he is, I'm sure, the most under-rated drummer there is – I've watched him from very close, on the side of the stage, and he seems so much more aware than your average tub thumper – while Jess Roden shows once again that he can sing the clothes off most of the other pretenders in the blue men sing the whites stakes. A drop of info about some of the people mentioned on the sleeve as helpers – Jonathan Clyde was Elektra's UK chief for a while, certainly when The Doors came over seeking musicians, and is now the boss of George Harrison's Dark Horse label, while Bill Siddons was The Doors' manager in their greatest years, although I don't know what he's doing now. Chris Blackwell and Bob Krasnow are the respective heads, or maybe ex-heads, of Island and Blue Thumb, and I don't know who Abe Somer is. Davy Harper is the roadie mentioned in the interview. So there.
Next is Manzarek's album. Listening to it, you can't help remembering Densmore's words about the songs being personal – they're so personal that I had no idea what it was all about. The album is called The Golden Scarab, subtitled "A Rhythm Myth", and I think it's some kind of concept album, although I could be wrong through sheer lack of comprehension. For some of the record, the tracks are introduced in a speaking voice, something like that Incense and Oldies album of a couple of years ago. When I say some of the record, the lyric sheet seems to indicate that it should happen all the time, but perhaps someone forgot and that kind of approach seems to me, probably a trifle unfairly, to permeate this outrage. Where Densmore and Krieger decided they needed a vocalist, Manzarek obviously thought he didn't, and there are several poor Jim Morrison impersonations around. The group, as mentioned above, are all splendid musicians, Carlton (of The Crusaders) taking some nice solos, and Scheff (ex Millennium and now Elvis' bass player) and Williams, once of Miles Davis, Lifetime and a bunch of other people I know little of, play very competently throughout. Manzarek's musicianship doesn't lead to complaints, except in an irritatingly tedius synthesiser instrumental called 'The Moorish Idol', but his singing, and more importantly the songs deserve a "Danger! Nasty Record!" sticker. There are two interesting things for me in the package, the first being the references to 'Moonlight Drive' and 'Tightrope Ride', both excellent Doors' compositions, you know, in 'The Solar Boat', and the second being a bell solo (far out) by one Steve Forman on 'He Can't Come Today'. On the debit side is a Chuck Berry cover in 'Downbound Train', although I was quite unable to recognise the original, the word 'celestrial' in 'Oh Thou Precious Nectar Filled Form', is the sub-title to the same song which is 'A Little Fart', the fact that the tracks are all over-long when their usefulness is taken into consideration, and most of all, the horrendous sleeve which shows my onetime hero Ray looking like a rejected extra from Goldfinger or perhaps a fugitive from Star Trek (cartoon version). It is not my desire or my habit to put down albums, or more particularly to applaud when an American record stays unreleased here, but in this case I earnestly feel that the fewer people who hear this, the better.
Finally, we come around to Jess Roden. He's done the fashionable thing, which he maybe learnt with the Butts Band, and recorded half the album in the States and half here. In New Orleans, the backing musicians include Allen Toussaint and Art Neville (Aaron's brother – Aaron did 'Tell It Like It Is'), and in England, Roy Davies, Mick Weaver, Simon Kirke and Rabbit. I'd say that overall I preferred Roden's work with the Butts Band, but again that may be blind prejudice – anyway, it's heavily superior to Manzarek's effort. The musicianship is beyond reproach, like the excellent sax solo by one George Lee on 'I'm On Your Side', but in general the material is a little ordinary. Understand me, I don't mean bad, like Manzarek's, but just a little unexciting. Jess himself is certainly more upfront than he was on the Butts Band album, and his singing is again exemplary. Someone said to me that they quite liked his record, but they wouldn't feel that they had to replace it if it were pinched. That about sums it up for me too. I think it's a shame that he didn't stay with Densmore and Krieger and tried it out a little longer, because although he'll probably increase his stature with what he's doing now, it could have been a quicker leap to fame with those who have experienced it all before.
EPILOGUE
It's difficult to write a piece like this, being objective about a bunch of musicians from whom one has been removed. You know who I mean – the totally unique Jim Morrison. In terms of rock musicians, Morrison has been my favourite since the first day I heard his music, and I'd still love to see him return. Not in a blasphemous rising from the dead manner, but just maybe he isn't really dead, but has gone to ground. For the uninitiated, if Morrison returned, there would be no continuation of the search for the next big thing....If you read this, Jim, I 'm not the only one. And just before I go, does anyone have any news of the projected Morrison book by Jerry Hopkins? And for those of you who read French, a friend of ours named Herve Muller has written a book titled Jim Morrison Au Dela Des Doors, which is published by Albin Michel/Rock and Folk. Well, what we obviously need is an English translation – how about it publishers? Jim Morrison lives.
John Tobler, ZigZag, December 1974