Post by TheWallsScreamedPoetry on Jun 15, 2006 20:09:11 GMT
[glow=red,2,300]
James Douglas Morrison:40 Years Gone!
[/glow]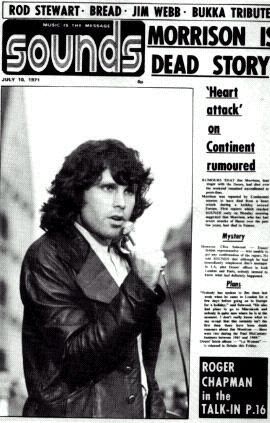 "I have just returned from Paris, where I attended the funeral of Jim Morrison. Jim was buried in a simple ceremony, with only a few friends present.
The initial news of his death and funeral was kept quiet be- cause those of us who knew him intimately and loved him as a person wanted to avoid all the circus-like atmosphere that surrounded the deaths of such other rock personalities as Janis Joplin and Jimi Hendrix.
I can say that Jim died peacefully of natural causes. He had been in Paris since March with his wife, Pam. He had seen a doctor in Paris about a respiratory problem and had complained of this problem on Saturday, the day of his death.
I hope that Jim is remembered not only as a rock singer and poet, but as a warm human being. He was the most warm, most human, most understanding person I've ever known. That wasn't always the Jim Morrison people read about, but it was the Jim Morrison I knew and his close friends will remember."
Statement of Bill Siddons July 9, 1971

JIM MORRISON, LEAD SINGER OF THE DOORS, DIES
Jim Morrison, the 25-year-old lead singer of The Doors rock group, died last Saturday in Paris, his public relations firm said today. His death was attributed to natural causes, but details were withheld pending the return of Mr. Morrison's agent from France. Funeral services were held in Paris today.
In his black leather jacket and skin-tight vinyl pants, Jim Morrison personified rock music's image of superstar as sullen, mystical, sexual poet.
The Doors, a quartet founded in 1964 in and near the film school at the University of California at Los Angeles, became by 1967 one of the most popular groups in the country, attracting the attention of serious critics who discussed their music's origins and meanings, as well as screaming, hysterical teenagers who sometimes had to be peeled off the performers by the stage hands at the group's frenzied concerts.
Their performances were invariably treated by reviewers as events of theater, for the Doors helped to take the electronically amplified rock music that bloomed on the West Coast out of the sound studio and into the concert hall.
Their music was loud and distinctive, but perhaps the most attention was paid to the lyrics, written by Mr. Morrison, which were filled with suggestive and frequently perverse meanings abetted by Mr. Morrison's grunts, sneers and moans on stage.
"Think of us," Mr. Morrison once said "as erotic politicians." One critic echoed others when he called Mr. Morrison's presentations "lewd, lascivious, indecent and profane." Indeed, in one of his most famous episodes, he was arrested and later found guilty of indecent exposure at a rock concert in Miami in March of 1969.
It was this concert, which shocked even some of his teenage fans, that led to a giant Rally for Decency in the Orange Bowl later that month, attended by 30,000 persons. Mr. Morrison was also forcibly removed from a New Haven stage in 1967 after he allegedly exposed himself.
Mr. Morrison's first two hits were Light My Fire and People Are Strange. One of his important works was The End, an 11-minute extended popsong that ended with a vision of violent death.
New York Times 1971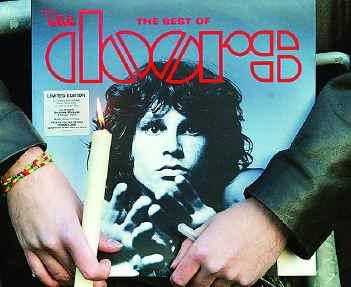 What are
your
thoughts on the lead singer of The Doors as both Poet & Performer?
What do
you
like about the guy and if you are into his poetry....why?
Share any thoughts
you
may have on the phenomenon that was James Douglas Morrison....
Also check out the Jim Morrison sections on this forum which are packed with information on both Poet and Performer
Poet
Man Myth Legend
Also includes articles and interview sections....