Post by TheWallsScreamedPoetry on Mar 11, 2023 12:18:14 GMT
Pershing Municipal Auditorium Lincoln Nebraska 11-12-1971
The Doors play their first tour without Jim Morrison opening in Lincoln Nebraska!....
'Without' relating to the fact that not only had Jim left the band in early 1971 but he had also died in July of the same year.
So unlike the few gigs he had missed in the past he was not sleeping off a drug or booze hangover or as in the case of Amsterdam in 1968 collapsed on stage prior to the bands set and been taken to hospital.
There was no possibility that Jim might show up unannounced and the three musicians were on their own for the first time.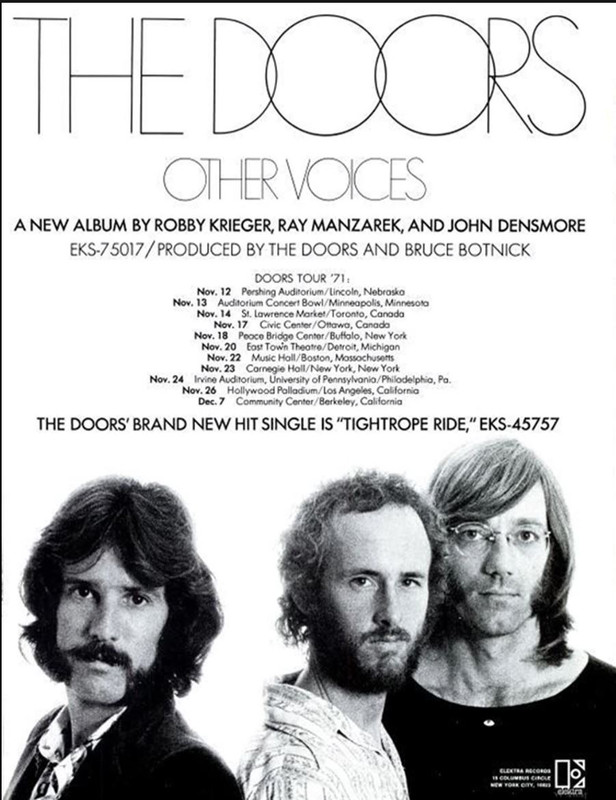 Credit has to be given to them for what they did. They had already recorded and released Other Voices and seemed determined to promote this as a new incarnation of The Doors.
Throughout their short career as a three piece they would embark on 4 tours.
Three in the US and one short European tour.
They would make three major TV appearances and two albums.
They would during this time not play one Morrison penned track.
A very brave move and one that should be applauded.
Of their hit catalogue they would play only 'Light My Fire' and 'Love Me Two Times', both penned by Krieger although I for one don't understand why Krieger's 'Love Her Madly' was not included as this was a minor hit from earlier that year which was known in Europe as well as the US.
Nevertheless they promoted themselves as a new Doors with a new agenda and new music to play to an audience.
During their short life they did play some well received gigs and seemed to draw in a new Doors audience.
Their Other Voices album sold enough to go Gold but Full Circle sold very poorly.
But live they were a good draw and played some outstanding concerts..
Jac Holzman played fair with them and gave them a 5 album deal worth at least $250,000 an album. He knew that the band was not the attraction it was prior to Morrison leaving but felt an obligation to the band for what they had done for Elektra.
A rare thing indeed for such a souless industry.
Several three Door concerts found their way onto bootlegs but so far this one has not turned up.
A remarkable day in the History of The Doors.
November 12th 1971,
Pershing Municipal Auditorium. Lincoln Nebraska.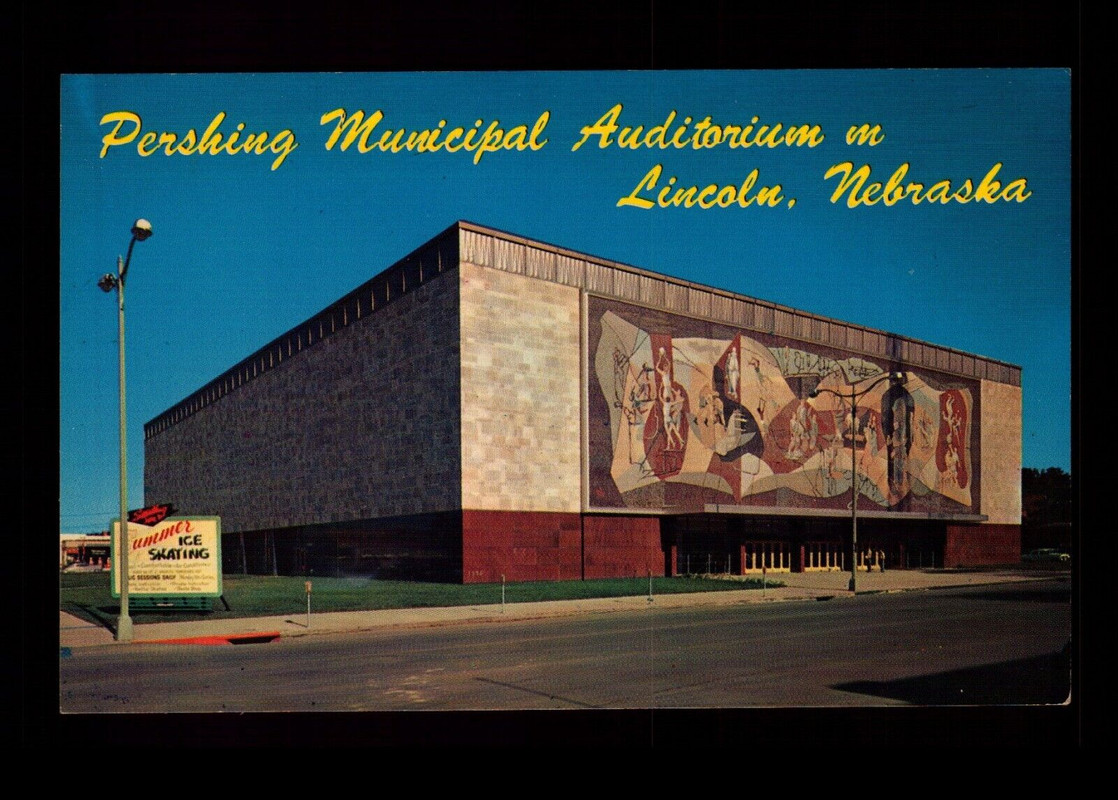 Opening night of this first Doors tour without Jim Morrison shows great promise for the trio which is accompanied by Bobby Ray on rhythm guitar and Jack Conrad on bass. Ray Manzarek plays exceptionally well.
The Lincoln Journal comments:
"Keyboard man Ray Manzarek deserves the star for his dressing room for his performance on Friday evening at Pershing Auditorium. He is super talented on both organ and piano.
When he tears into the blues he really is a superstar.
Holly Spence. Lincoln Journal November 13th 1971.
They open with a solid version of 'Tightrope Ride' and other highlights include 'Variety Is The Spice Of Life', 'Ships w/Sails' and 'Hang On To Your Life'
The show is promoted by old friend and former roadie Rich Linnell.
The Doors First Tour Without Jim Morrison 1971
What direction do YOU think the band would have gone in if they had carried on after Full Circle?
What could have the doors become?
Should the band have carried on at all without Jim Morrison in 1971?
35 Years On....should The Doors have carried on?
Could an effective Doors replacement have been found for Jim Morrison in 1972/73?
Could Jim have been replaced in 1972?

What has been the best Post Jim Doors moment for YOU in the last 35 years?
Best Post Jim Moment
Check these links
Vote for the Post Jim albums
Full Circle
Tightrope Ride
Post Jim Singles
Other Voices