Post by TheWallsScreamedPoetry on Apr 27, 2006 15:20:20 GMT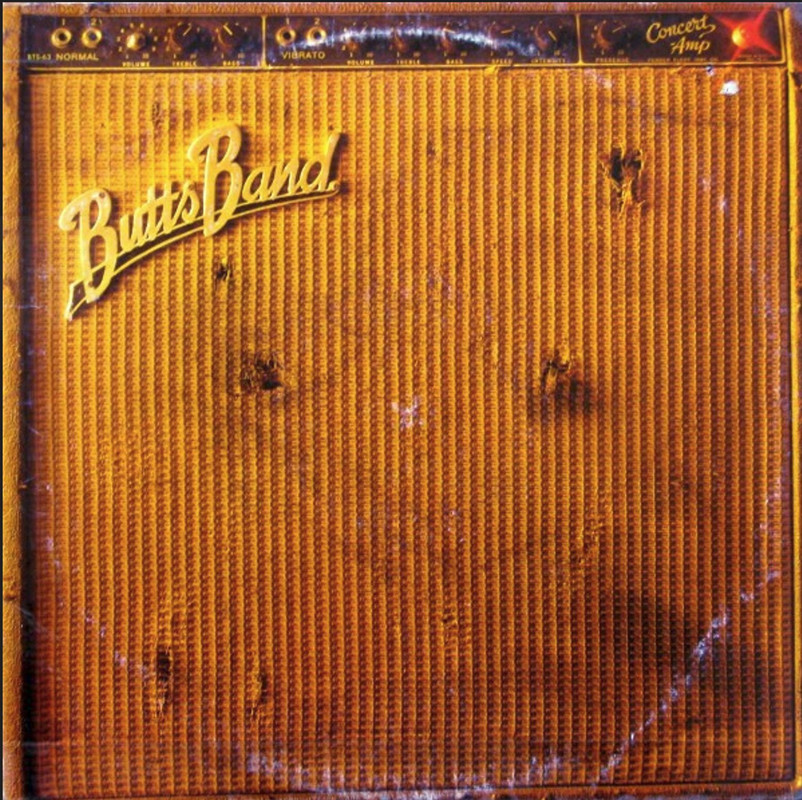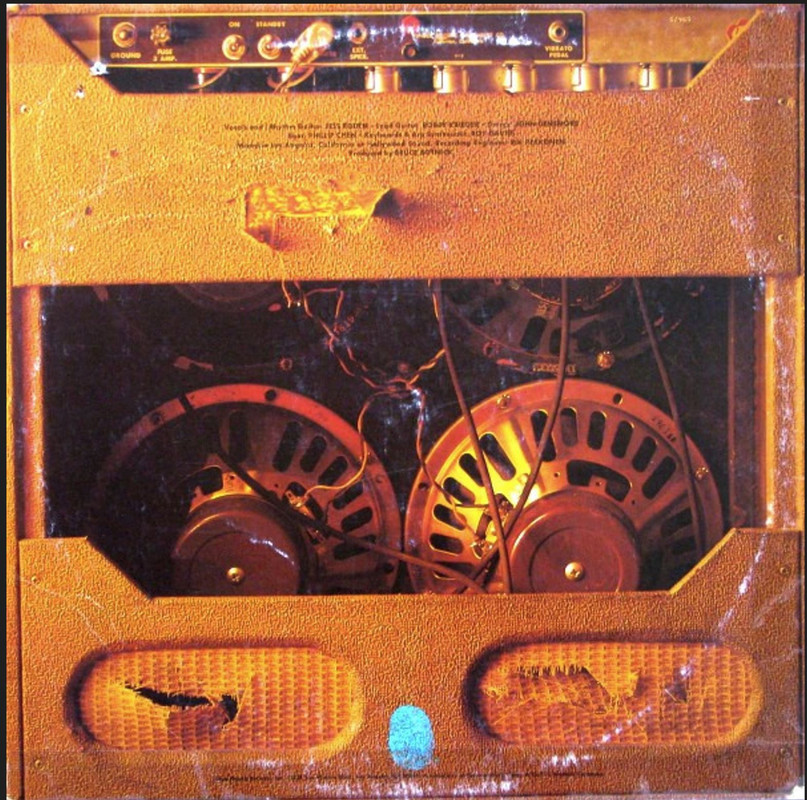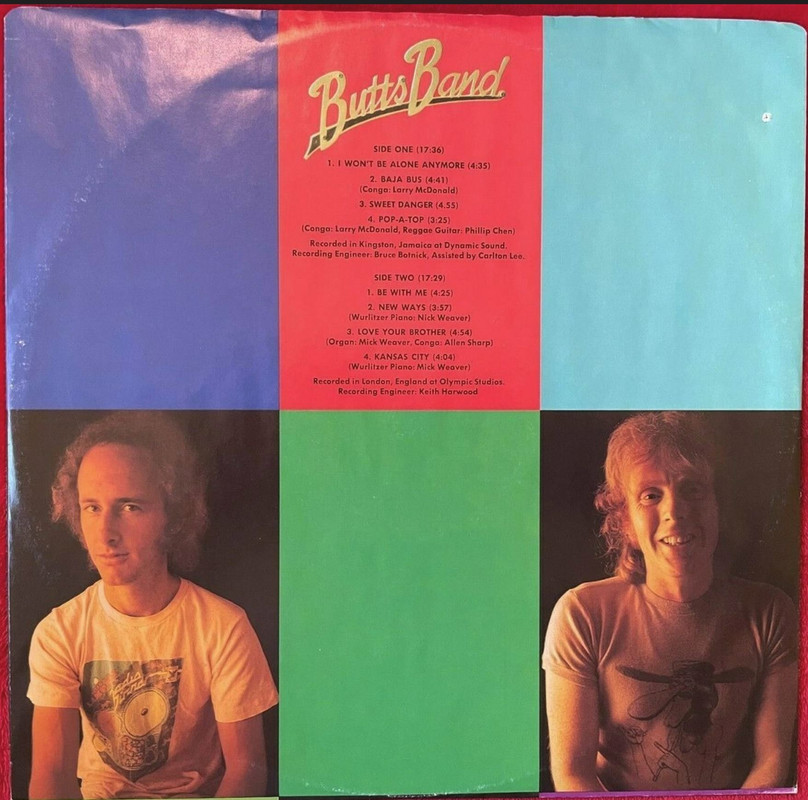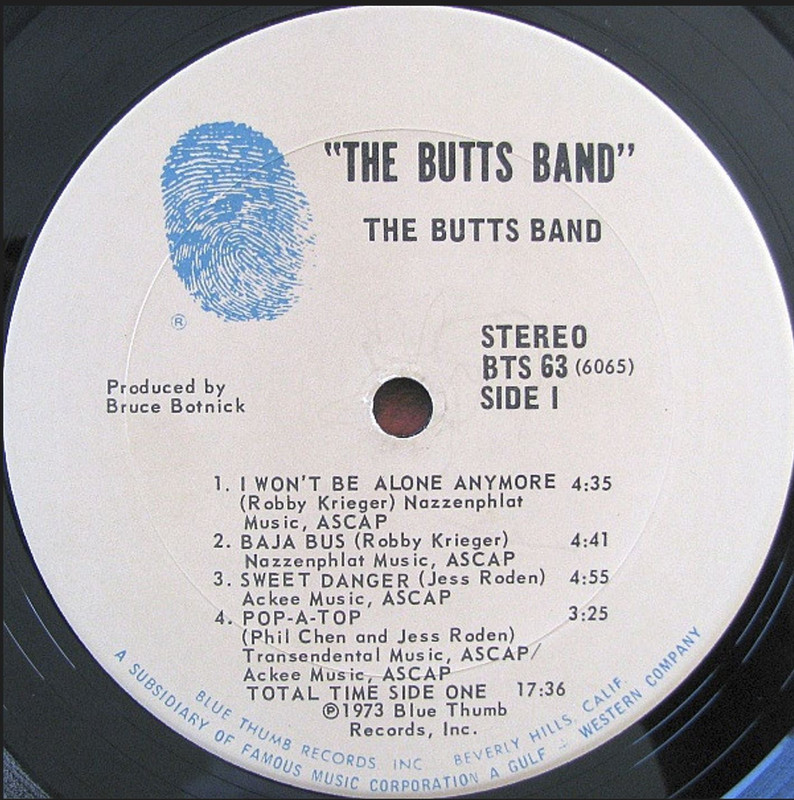 SIDE ONE
1. I Won't Be Alone Anymore (Robbie Krieger)
2. Baja Bus (Robbie Krieger)
3. Sweet Danger (Jess Roden)
4. Pop-A-Top (Jess Roden & Phil Chenn)
SIDE TWO
5. Be With Me (Robbie Krieger)
6. New Ways (Jess Roden)
7. Love Your Brother (Robbie Krieger)
8. Kansas City (Leiber & Stoller)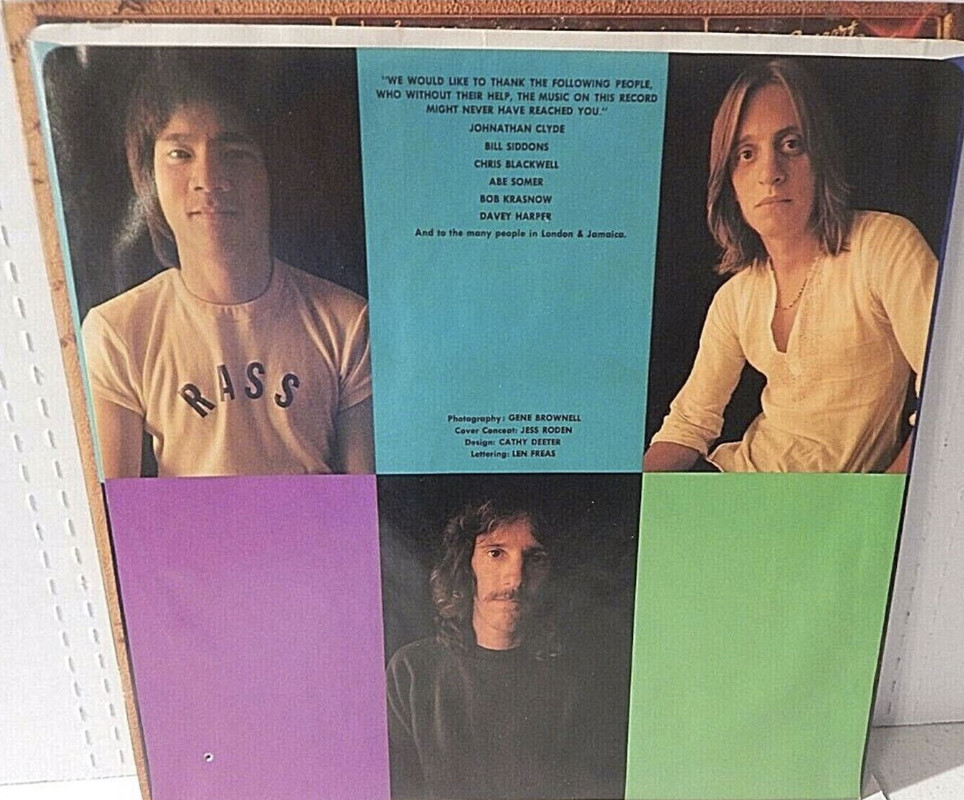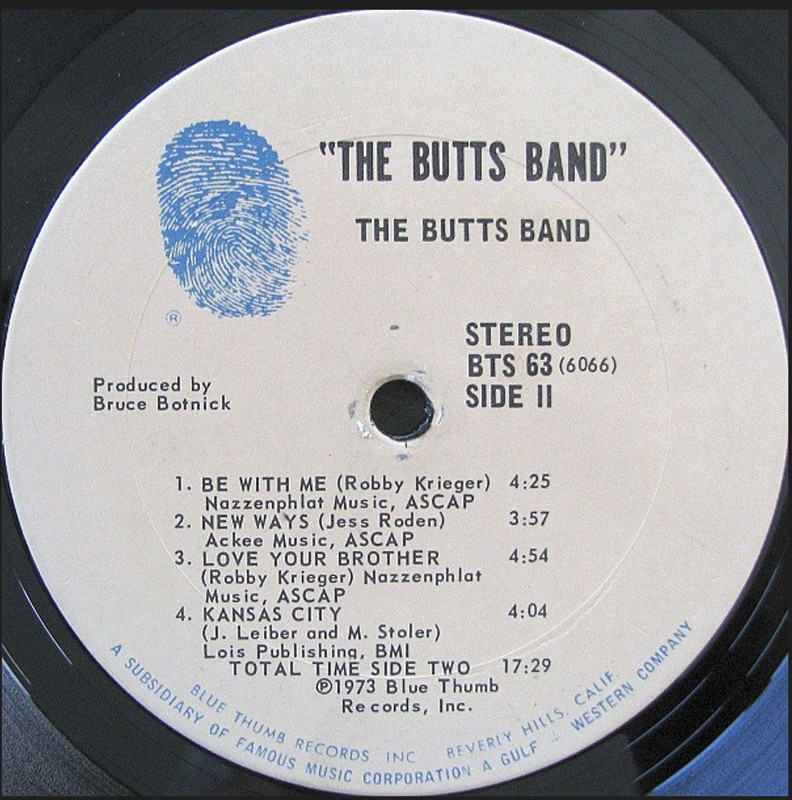 Producer: Bruce Botnick
Jess Roden Vocals, Guitar
Phillip Chen Bass, Guitar
Roy Davies Keyboards, Synthesiser
John Densmore Drums/Percussion
Robby Krieger Guitar
Larry McDonald Congas (Tracks 2,4)
Allan Sharp Congas (Track 7)
Mick Weaver Wurlitzer Piano (Tracks 6,8), Organ (Track 7)
Produced by: Bruce Botnick
Recorded at: Olympic Studios, London and in Kingston, Jamaica
Engineers - London / Keith Harwood & Kingston / Bruce Botnick
Mixed in Los Angeles at Hollywood Sound Studios
Label: Blue Thumb (BTS 63) & Island (UK) ILPS 9161
Recorded: May 1973.
Released: June 1974
Photography: Gary Brownell
Sleve concept: JR
Design: Cathy Deeter
Lettering: Len Freas
Butts Band: The Album
The debut album entitled with breathtaking originality 'The Butts Band' certainly wasn't The Doors and it wasn't true reggae either. Nor truth to tell was it anything really new as far as the music scene of 1974 was concerned and in the years of rock 1974 to 1975 were probably the most musically stagnant since 1959. Therefore by association whilst pleasant enough to the ear The Butts Band debut did not exactly set the world alight. Of the two sides the one recorded in Jamaica is the more lively with the opening track 'Won't be Alone Anymore' contriving to sound decidedly Monkeeish whilst setting the general tenor of the album....excellent guitar (as ever) from Robby though more to the fore than had been previously the case, precise drumming from John and workmanlike vocals from Jess Roden more than compensating for the shortcomings on the final pair of Doors albums.
'Baja Bus' gives the impression of being a Full Circle leftover whilst Jess Rodens 'Sweet Danger' exudes a decidely latter day CSN&Y air with which Roy Davies mingles a few organ lines lifted directly from 'Riders On The Storm'.
'Pop A Top'....well the best thing about it is Robbys bottleneck...otherwise its something of a wasted track.
The London side never really escapes from a laid back groove and in fact until the final track it tends to plod.
The closer 'Kansas City' the old Leiber/Stoller classic is something of a curio for its not a live track though it purports to be. True it was recorded in one take at Olympic Studio but the crowd response was dubbed over at a later date.
A move Jess Roden took a dim view of.
"I think they took the applause off an old Doors album or something and I wasn't too pleased with that."
For the production Bruce Botnick returned to the fold but it was a somewhat roundabout affair with the Olympic session being engineered by Keith Harwood the band then taking the tapes to Dynamic Studio in Jamaica where Botnick engineered the later sessions. Then everyone flew to LA where the album was mixed in Hollywood Sound Studio.
"The English session took three weeks then three weeks in jamaica and on to LA for mixing. So the whole thing took two months and it was pretty much a continuous period."
John Densmore.
The Doors: by Tobler & Doe
Original master tape of debut LP.