Post by TheWallsScreamedPoetry on May 12, 2011 20:14:53 GMT
My Interview with Doug Cameron
Author of Inside The Fire – My Strange Days With The Doors
By Sara Perry
In 2009 Doug Cameron released his book, sharing his experience with The Doors. As a 17 year old from the mid-west he bought a ticket for a Doors show in Chicago, November 3 1968 that forever changed his life. In 1969 he became a roadie for the band who worked very hard lugging 240 pound amps for gigs in the mid-west and down to Mexico City.
Doug was hired by Vince Treanor, Doors Road Manager and although he was promised a salary of $60 per week at the beginning of his employment he in fact ended up working for free, enduring days of highs and lows along his journey just because he was a Doors fan.
Thrilling as this lifestyle could be for a young fan inches away from his favorite band both on and off the stage he was also a witness to their struggles as human beings. Doug's book delineates a natural progression to the downward spiral that frames the Doors history of 1969.
Doug didn't have an easy ride himself as he was faced with personal challenges on a seemingly day to day basis. In the end he left the band behind, not because of the hard work without compensation or the fact that he was tired of the road, but because it was the appropriate decision given the uncomfortable situations he had experienced during his time with the band at the hands of one man.
Doug's experiences will fill in some blanks in Doors history that few fans know about. The final pages include an exclusive question and answer section where Vince Treanor offers his take during his time with the Doors and a vintage 1984 radio interview that Doug granted where he is joined Ray Manzarek.
1. After reading your book I got the impression that Jim was getting bored with being a rock star. What was your impression?
Endless amounts of adulation, booze, instant gratification and women (very pretty women) actually do become redundant. I think by March of '69 Jim was exhausted. After March 1, 1969, life was a struggle for Jim.
2. Jim seemed to be getting drunk more often during this period of time. It is a known fact that he was suffering from alcholism. In your opinion what could have contributed to the rise in Jim's drinking habits?
According to many of the poets, the road to enlightenment was through excess. Jim wanted the whole world...NOW! He was a glutton. Jim seemed bored with the trappings of rock stardom which lead to self medicating as way to numb himself.
3. In your opinion, what do think lead up to the infamous Miami concert? In otherwords, what were the circumstances leading up to the event?
1. A huge fight with Pam the night before
2.Boredom
3. Several nights of seeing "The Living Theatre" in L.A. ; a completely naked performance theatre group
4. Several bottles of champagne
5.Feeling like the leader of a freak show
4. Vince Treanor was an excellent Road Manager who was very skillful with sound equipment. After his career with the Doors ended, why, in your opinion was he not employed with another band?
Vince's treatment at the hand of Bill Siddons was scurrilous. On a larger scale, however, I blame the Doors for not giving Vince a much larger separation package. Actually, as far as I know, there was NO separation package. The Doors had millions. Come on. This particular incident has led me over the years to conclude that the Doors are very, very TIGHT!
5. You talk about the Doors sound system in your book. Particularly, the use of Acoustic amps as well as Altec Lansing 15" speakers along with a Monolith System. Some of the amps weighted up to 240 pounds each. I'm under the impression that there were only 2 people who moved the gear from gig to gig, you and Vince. I am aware of the fact that many auditoriums offered Union scaled workers to help load, unload and set up concerts. Did the Doors employ any of these Union workers to help set up or tear down their equipment?
I never saw any union people at all. Maybe there would be a few extra people hired by the promoter, but usually not.
6. In regards to the moving of equipment you mention the fact that Vince would try his best to move the equipment via commerical airline "excess" baggage as a way to save money in lieu of shipping via air freight or ground transportation. Vince would slip airline personal money to take the equipment and place it on board. This equipment would have been among the passenger bags, mail and cargo already scheduled for that particular flight. It amazes me that Vince was able to move at least 1 dozen amps that weighed 240 a piece plus other equipment in this way because a basic model 737 only holds so much weight and the load has to be offset so the plane is level. Could it have been that The Doors chartered these flights instead of paying off airline workers to sneek the equipment on?
No way. They never chartered any flights. Upon arrival at the airport Vince would "tip" the sky caps into securing the bands equipment into the cargo hold of the plane. In this way the band would not have to pay freight charges.
7. You mentioned that the two Doors shows in Chicago were different, June 14 1969. The first one wasn't up to par but the second one 'cooked.' Was there a sound check prior to the show or was the first gig kind of a warming up process that afforded the 2nd gig to go off without any hitches?
Yes, there was a sound check on June 14, 1969, and my friend Phil Kresler saved the day. One of the keys on Ray's Gibson Kalamazoo organ was sticking up about 1" above the others, and Phil fixed it with a small screwdriver. Other than that, I don't remember anything about the sound check except that it was Jim's first time to use the new Monolith system that Vince had built (and designed). I couldn't tell by the look on Jim's face, but he was apparently absolutely blown away by the 5,000 watts of power. Also, by now, the Doors were using the new Austrian AKG microphones. The Electrovoice 676 mics had fallen into disfavor.
To answer this question more specifically, I would say yes; the rustiness of the first concert that night led to the poignancy of the second concert. I think the second concert was the best doors concert I ever saw.
8. On June 16 1969 you flew to Los Angeles and entered the Doors Workshop on Santa Monica Blvd. Great description of the place by the way. It really gives you a feel of what the place looked and smelled like at the time you were there. You mention the two secretaries in the Doors office. Did you come in contact with Danny Sugerman at this time? The reason I ask is he was only a few years younger than yourself so I'm speculating that the two of you could relate to subjects concerning your age group.
I never saw Danny Sugarman at anytime during the summer of 1969.
9. You mention that while in Vince Treanors' apartment where you resided during your tensure with the Doors, you came across a letter written to Jim Morrison shortly after the Miami concert from a Dalton Clarke. (Jim's mother's maiden name was Clarke). You go on to say that you did not know how Vince would have this letter in his possession but your theory of Jim having thrown the letter away could have been the cause. In consideration of the letter Jim received from Dalton Clarke brings me to the next question. You mention that Jim wrote a song called "Land Ho" in memory of his sea faring grandfather. In your opinion do you think the writing of Land Ho had anything to with this letter that Jim received?
I've never drawn the connection between "Land Ho" and the letter from Dalton Clarke to Jim. It is reasonable to conclude that Jim loved his grandfather. The letter could have been a springboard.
10. You mention that Jim was not with the other band members except during concerts. Was he not present at most rehearsals that you witnessed? Collaborating on songs together with the other members?
Jim was not necessarily at band practices. Sometimes he would disappear for a week.
11. It seemed Robby controlled which songs were played in concert. As you mentioned, one band member would start one song and then Robby would start another and Robby won out. There was no agreed upon set list prior to the performance? How did audiences react to this sort of unprofessionalism or did they even notice what was happening?
Robby didn't particularly "control" all of the songs. The group would come to a consensus, that's all. Frequently Robby and his guitar won out. Robby's guitar is a lot louder than his mouth. I don't think audiences minded the arguing. They were just tripped out to see the Doors in the first place; usually. At the more rare concerts like The Dinner Key Auditorium in Miami on March 1, 1969, audiences were disappointed. The Doors could sound great at one concert, and horrible the next. Sometimes, Jim would just hang on the microphone stand because he was absolutely demolished. He was being crucified by his own mind.
But back to my point about how sometimes things didn't sound too good: listen to Robby's solo on Light My Fire at the 1968 Hollywood Bowl concert. UGH. And here he is playing through around twenty Acoustic amplifiers, wired in series. Robby was very distracted that night...everyone was.
You ask about un-professionalism? Come on, it was the sixties. No-one gave a shit about professionalism. People wanted an out- of- body experience...they wanted to see Dionysus...and they did!
12. You went to Mexico with the band. Was this your first trip outside the U.S.?
No. I'd been to Canada a couple of times, previously.
13. You got to go for a late night swim in the hotel swimming pool with Morrison one night. I'm under the impression that as long as you did not bring up the band to Jim he was more friendly towards you. Your conversation during this brief time was like no other conversations prior to that: you both were swimmers on teams in high school and you both had a passion for literature. I was intriged that you asked Jim what he was going to do when the Doors were finished as a band? Jim's answer back was he was going to open a nightclub and call it "The Albatross". What do you think Jim ment by using the words "Albatross?"
First off, Jim was the ultimate existentialist. It wasn't that he didn't want to talk about the band so much as he didn't want to talk about ANYTHING in the past. The albatross reference (and the image of the dead albatross hanging around one's neck) was a metaphor for Jim's freedom. But he wasn't free because he had an albatross called The Doors hanging around his neck.
14. Vince got you into an uncomfortable situation or should I say situations during your brief employment with the Doors as a roadie. After reading your book I can certainly understand why you quit your job without prior notice as any young man of your age I would hope would have done the same thing. Over and above the uncomfortable situations you found yourself in with Vince Treanor, you explain Vince's actions towards you as a man trying to be somewhat of a father figure. Nowdays I would suspect the adjustive would be, "control freak". From the many references I have read in regards to the Doors, Jim rebelled against anyone who tried to tell him what to do, even Ray Manzarek who was older. Did Vince try to be a father figure to Jim Morrison? And if so, did you witness any dissatisfation on Jim's part?
Actually, thinking back, Jim probably felt closer to Vince than anyone else in the band. Jim would listen to Vince's admonitions for quite a long time, but ultimately would not follow through on Vince's or anyone else's recommendations because of the alcohol.
15. You mention the fact that up until the Mexico gig, other than transportation expenses you were never paid for your services as a roadie. In fact if it was not for Bill Belmont, Manager of Country Joe and the Fish you would have remained in an airport in Mexico City without a VISA and no means to get back to the States. Through the generousity of Belmont he set you up with a few dollars to hold you over until you could fly back to the mid west. Where you ever paid any wages for your services while employed with the Doors?
Not one dime. My first paycheck of $120 was waiting for me at Bob Greene's office (the accountant), but I was already on my way back to Indiana. Looking back on this moment in time I can recall that the cost of my one way airline ticket from Mexico City to Los Angeles was deducted from my first paycheck which left nothing in compensation for the work I had done.
16. You were invited to Cherokee Studios to hear a rough cut of what was to become An American Prayer. Would you care to elborate on this experience?
First off, I did attend a couple of Door's sessions at Cherokee Records while American Prayer was being put together. Then I was invited by Ray to attend the premier.
When I got to Cherokee Studios the night of the premier, I walked in the front door, went through the lobby, and then went down a few hallways. At the end of the second hallway (standing at the entrance to one of the studios) was none other than Rod Stewart. He was talking to some woman whose back was to me. I walked past them and followed the obligatory right turn down another hall and through a door to an outdoor area. You went up a few steps and were standing on a deck in front of a studio.
Frank and Kathy Lisciandro were already there and shortly Robby showed up. I shook his hand and was impressed by how big his hands are and how strong. And I should know…. I am a piano player. Guitarists bassists and piano players always have strong hands.
Everyone collected in the studio… it was about 7 pm and still light out. Babe Hill was there, Ray, John, Robby, John Haeny-the producer and engineer, Danny Sugarman, Dorothy Manzarek, but not Bill Siddons. There were several other people who were unknown to me. There was talk of inviting Rod Stewart in but he wasn't there.
We were seated and the room darkened. Then the music began. I was sitting to Robby's left. As we faced the large elevated speakers, one could not fail to notice the heavily draped area and vocal booth in front of us. The drapes were deep scarlet and the booth was as wide as the studio. I kept imagining that Jim was in the booth…he sounded so close.
The track "Awake" started with that Native American beat. I loved it. At one point during a guitar solo I imprudently enthused by grabbing Robby by the arm and saying, "Wow!". He didn't seem to mind my enthusiasm.
All in all, it was a fantastic evening for me!
17. You mentioned that Ray overdubbed his parts for Alive She Cried due to the mistakes he made during the live performances. To your knowledge did any of the other members do the same?
Could be, but I have no idea.
18. John Densmore mentions in his book, "Riders On The Storm" that he had a falling out with Ray manzarek, after his book was published due to a specific paragraph relating to the fact that Jim Morrison wanted to quit the band in mid 1968. Robby Krieger has also mentioned in several interviews that this is the reason why Ray and John parted ways. Unfortunately, Robby doesn't explain why he and John do not seem to be the friends that they once were. In your book you mention a conversation with Ray Manzarek in 1995 and specifically ask him what happen during John's last Birthday party that caused a riff between the two musicans. The answer you received was Ray Manzarek changing his phone number. Why do you think Manzarek did not answer your question?
Because-and I am only guessing-it was a very acidic contention that Ray made about John and Jim in Ray's book "Light My Fire". That Jim had talked to Ray about wanting John out of the group.
When I wrote Inside the Fire, I hadn't read Ray's book and didn't know about Jim's alleged comment. So, it was like I was prying at Ray's fresh wounds. Oops!
This is probably when Ray decided definitely I was just a pest.
19. In your opinion do you think it would have made any difference in Doors history if Jim quit the band in 1968?
Soft Parade, Morrison Hotel, and LA Woman wouldn't have happened, but Jim might still be alive. I wish he was, but there were lessons he never learned. One of the lessons was subtlety; another was moderation.
20. You are one of the privledged few who have spoken to the Courson family as they are very private people who have endured a lot of pain over the years. First in the loss of their daughter and then the pressures of dealing with the many offers that have been proposed over the years in use of Doors music. In your book, you mention that the Coursons have no love for Ray Manzarek. As a parent I can certainly understand their feelings. The Coursons' mention that Jim Morrison tried to strangle Ray during a car ride in New York City. John and Robby had to pull Jim off of him. Do you know when this incident happened and/or why this happened? I am asking this question only to clarify the many stories that have been passed around over the years that say Ray and Jim were best friends throughout the bands history. Ray Manzarek himself maintains the same story to this day.
All I know was that it happened in New York and had to do with who wanted what. Obviously, a power struggle.
I don't think Jim and Ray were best friends. To be someone's friend, you have to be a friend to yourself. Jim was not a friend to himself.
21. On page 104 you included a series of answers to questions that you posed to Vince Treanor. What is your opinion of the answers Vince gave you? Specifically, Vince mentions that fact that Jim Morrison was going to start a new band and wanted you to play keyboards. Why would Vince say such a thing?
I was very pleased with his answers. Vince has strong opinions and has no fear expressing them. I learned a lot about the Doors from Vince. It was Vince that told me about Jim's asthma. And about how Paul Rothchild got Jim into cocaine starting with Morrison Hotel.
As far as the "why" of Vince's suggestion that Jim wondered where I'd gone because Jim wanted me to play in his new band, I would say that Vince still wanted me to "drop the soap." I guess it is possible that Jim knew about my musical chops but I doubt it seriously.
Vince's answers to my questions are what put my book over the top. I very much appreciate Vince's help.
22. The next question I have deals with the change in musical styles for the last Doors albums. Vince mentions in his answers to you that it was Ray Manzarek that talked Jim into blues music and subsequently this is the type of music that domintated the Doors last 2 albums. He goes on to say that it was Ray's choice of selections for the Doors 2 post Morrison albums that became a factor as to why the Doors ended so abrubtly in 1973. Would you care to elaborate on this?
I like the quicker Chicago style blues and my favorite blues man is John Lee Hooker. Generally, however, blues brings me down. When the Doors played stuff like Little Red Rooster, I didn't like it at all. I liked the earlier music, like the second album, and tunes like Spanish Caravan. But who asked me back then?
I don't agree that the last two albums were dominated by blues; not at all.
23. I enjoyed your book very much as it gives another side to the Doors story that has never been told in any other autobiography. Looking back on your book is there anything you wanted to include in your book but did not?
Actually, as time goes on I'm more and more pleased with my book. It has received a great deal of praise from all quarters, and there were even several nickels that like it.
So many people have remarked that I got out just in time and I realize that this is true. I saw all the debauchery and ultimately I rejected it.
Everything is in the book, nothing left out. There are a few items that I know about, but out of respect for Ray, John and Robby, those will stay with me.
Inside Doug's memoir is a selection of photos taken during his time with the Doors and his own band that are included in his book. A preview of the photos can be seen at his website.
B. DOUGLAS CAMERON
bdouglascameron.com/
I want to thank Doug Cameron for his time and participation in this interview. I believe Doors fans will find his memoir fascinating as it tells of a different side of the Doors on the road.
You can order Doug's book through his website for $20.00 U.S./$32.00 (outside the U.S.) which includes postage. In purchasing his book you will receive an autographed copy inscribed to the purchaser. This publication can also be obtained from http://www. Amazon.com or in the U.S. through Ingram's Books at
www.authorhouse.com
(888-280-7715).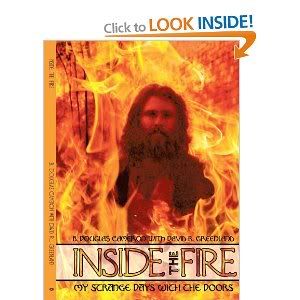 Inside The Fire - My Strange Days With The Doors Amazon UK link